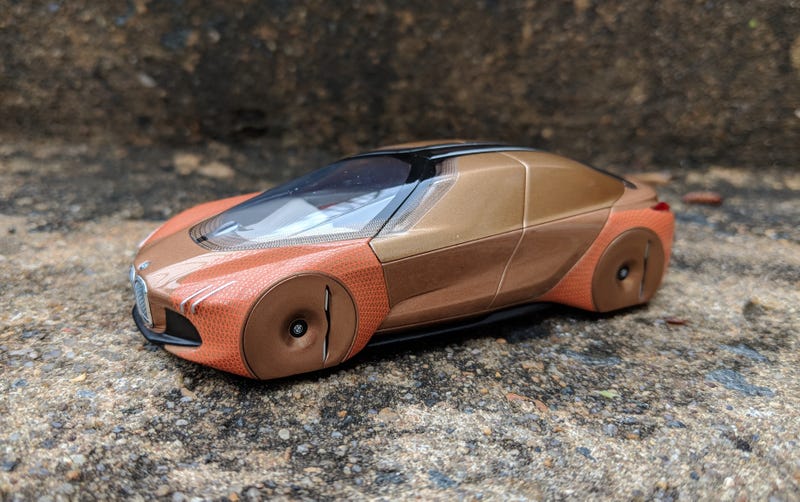 I know I'm not LaLD's resident concept car guy, but when I was looking on ebay for something fun to add to my BMW Week lineup and saw this car, I had to have it! Thankfully I ended up being the only bidder and snagged it for little over $20! Scorrrrrrrrrrrre!
First let's talk about the vision behind the car. Intelligent, aerodynamic, adaptive, individual. These are the words of Adrian van Hooydonk, Senior VP of BMW Design Group. The car has an aerodynamic shape that can adapt to what the car needs to do. For example, the front wheel arches are completely covered, but the material can expand to let the wheels turn as needed. On the interior this means that the whole windscreen is a display that shows the driver objects/people/vehicles around corners in order to anticipate actions and avoid collisions.
Interestingly van Hooydonk also said that despite it being the Vision Next 100, this concept car displays the possibilities for the next 30 to 40 years or so. I guess Vision Next 100 sounded better than Vision Next 30ish?

Karim Habib, head of BMW Automobile Design, said, "Our goal was to create a very personal vehicle. There will always be that highly emotional Connection between a BMW and its driver." In order to accomplish this, the car has two modes, Boost and Ease. Boost is when the driver is in control, and hopefully gives an engaging driving experience, and Ease is when the car takes over and runs fully autonomously, and seats can turn toward each other for more interaction between the occupants.
Add to all this fanciness a retractable steering "wheel," little dashboard tiles that pop up to alert you of things, an AI called "The Companion," gullwing doors, and 4D printing construction, and you have a hyper futuristic concept of what a car could look and feel like in the next 100 30-40 years.
This model is a 1:43 by NOREV and looks stunning. It sadly lacks the "Alive Geometry (which is represented by a slightly overbearing tampo)," The Companion, and gullwing doors, but the color is spot on, the wheels roll, and the interior looks great and detailed. This car definitely stands out in my collection.