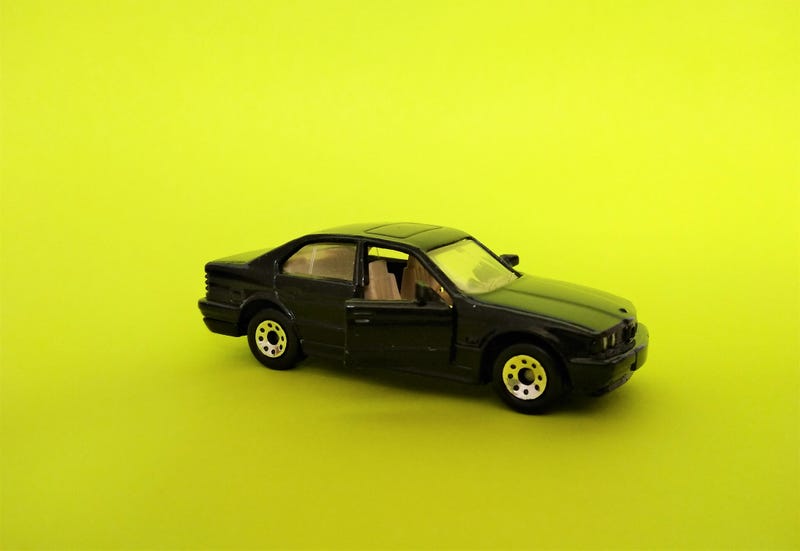 The third (E34) generation 5-series, introduced for 1988, brought BMW's midsize range into the 1990s.
No longer did the styling carry the horizontal-seam-look from the influential 1960 Corvair, and an entire lineup of new engines was introduced before the lineup was replaced by the fourth (E39) generation.
The styling was a lot like a smaller second-generation (E32) 7-series, which had been introduced a couple years earlier.

Engines ranged from a 1.8L four-cylinder to a 4.0L eight-cylinder (the first V8 in a 5-series) for petrol engines, alongside several six-cylinder diesels. The M5 was the last to be powered by the M1-derived inline six.

This is the Matchbox casting of the E34, and this was the debut issue, in black over tan. The MBX E34 was only ever offered in the Rest-of-World (ROW) lineup, except for the rare Premiere issue. For 1989-1990, it was offered in solid black, while a white racing livery was offered for 1991-1994, along with an ultra-rare red version in the Motor Show series.

This is one of Matchbox's nicest 80s/90s castings, and one of the last castings done in the traditional vintage style. The body and base are metal, the doors open, and all the detail is cast - this issue features no tampos at all.
The traditional kidney grilles are accurately textured, and the headlights are highlighted in silver paint. Body lines are accurately molded, and the lines for the taillights are sharp.
The steering wheel is accurate, seats are textured, and there is some centre console detail.
The base contains identifying details, as well as some exhaust and suspension components.
Thanks for viewing!