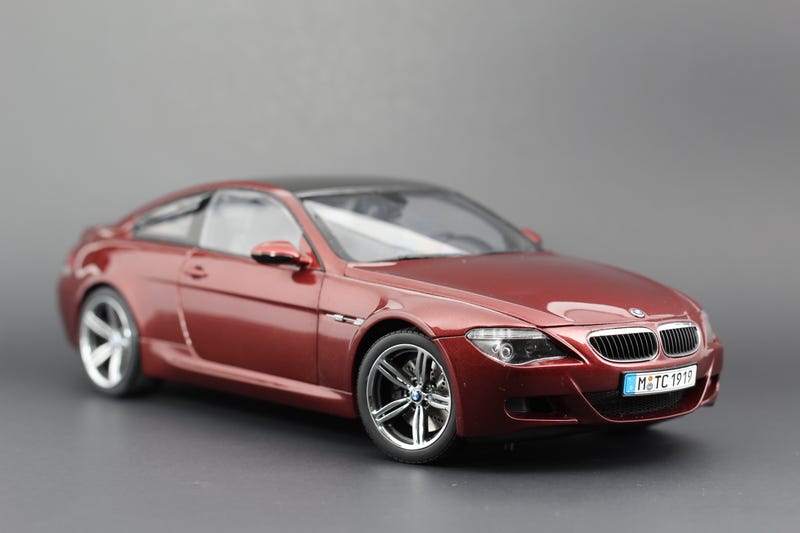 That's right, the other car BMW stuffed the insane S85 V10 into. The first M6 to be graced with the nameplate since 1989. The best Bangle Butt this side of the E65. Another bad idea that would require a second mortgage to pay for the maintenance. This is the E63 BMW M6 Coupe from Kyosho.
To be frank, there's nothing here you haven't seen before. Androoo shared his a while back and his is even the same Indianapolis Red as mine. I would have killed for an Interlagos Blue version, but this was a boxless special that I couldn't pass up as soon as I got the ebay alert. I bought this as a birthday gift to myself the year before last, after I thought the Sagaris I ordered from the Czech republic was lost in the mail forever.
This M6 is a fantastic model, as long as you are on the team that digs the controversial styling. Its stablemate, the E60 M5, is very similar in regards to features and detail.
Yep, that's a V10! Another favorite feature on this model of mine is the carbon fibre roof. The M6-exclusive Style 167 wheels are well proportioned with the right about of rubber of them and sit in front of detailed brake rotors and calipers.
The E63 debuted in 2005 and continued on the market until 2010. With a sticker price of $102k, it was the second-most expensive Bimmer you could buy in it's final year. Now you can pick these up for as little as $20k, but that doesn't mean you should...