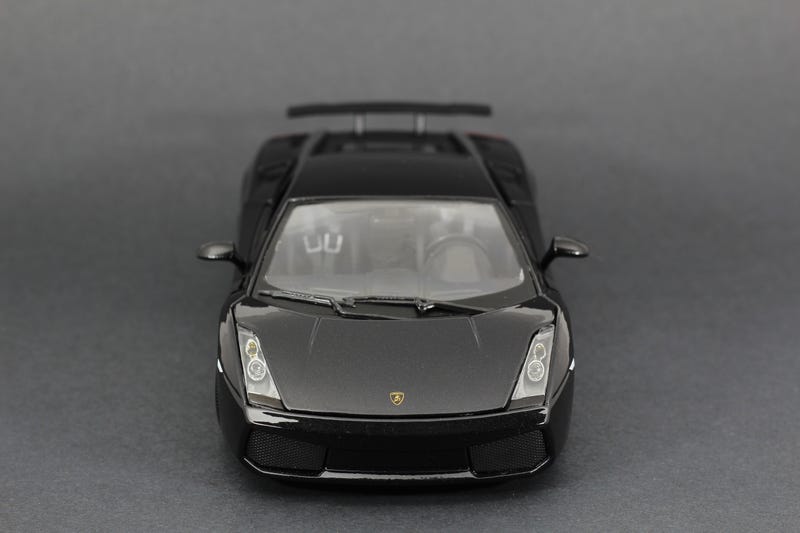 First up of my many, many $15 Maistos to share this week is the Lamborghini Gallardo Superleggera. The marque from Sant'Agata was a one-trick pony for forever and a day, stretching all the way back to the Countach era. However, shortly after being aquired by VAG, Lamborghini was selling two models in the new millennium. The Gallardo joined the flagship Murcielago in showrooms across the globe, and the "baby Lambo" quickly became an instant hit.
The Gallardo lived a long live as the "entry level" Lamborghini from 2003-2013. Just before the facelifted LP-560 went into production in 2008, a top-of-the-line model was released, the Superleggera.
As you know, Superleggera loosely translates to "super light" in English, so weight reduction was the focus for this model. Lamborghini used carbon fibre pretty much everywhere and shaved 220lbs off the base model. This supermodel diet meant the car could now rocket to 60mph in an austonishing 3.4 seconds. So like, in the time it took you to read that last sentence.
As I mentioned, this model is brought to us by Maisto and was a wholesale club special ringing up at $15 a pop. We all know a certain somebody's feelings about the Maisto brand, but even he can't deny the value we've got going on here. He'll still try to convince you otherwise, but deep down, he knows I'm right.
It's kind of sad when I have to list "made of diecast" as a feature, but facts are facts. You also get opening doors, luggage compartment, engine bay, steerable wheels, and a fully functioning suspension. While I may not win the award for most coveted model, let's not forget that a Maisto has taken home a class award before...
The Superleggera nameplate was brought back a second time on the later LP570-4 Gallardo, but I can't get past its stealth fighter jet looks. Everything Lamborghini gave the Reventon treatment to just brings back terrible memories of the pythagorean theroem from Sophmore year Geometry. The first gen model still resonates with me as a young budding supercar enthusiast when the "other brand from Italy" started making a different car for the first time in my life.