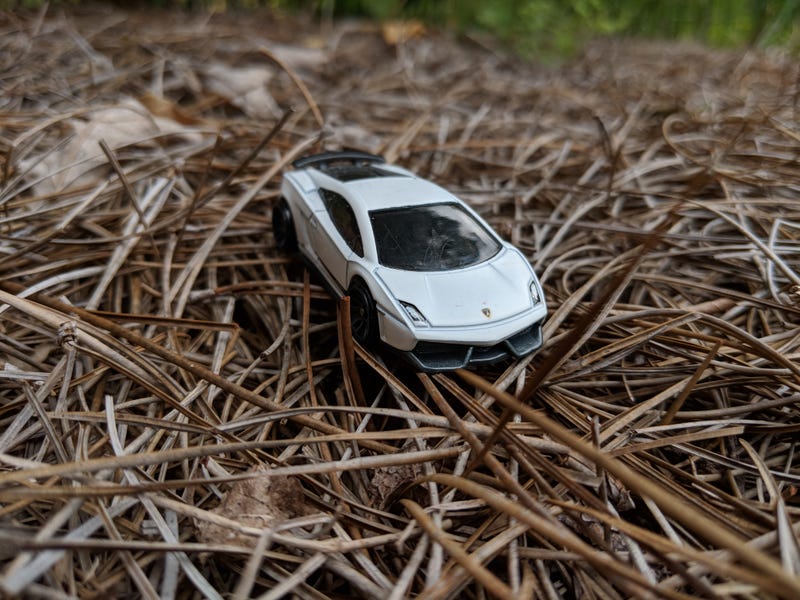 I still don't remember why I ended up picking it up or displaying it on my desk at work, but it still sits there, now as the companion of about 45 cars and remains one of my favorites. 
The Lamborghini Gallardo LP 570-4 Superleggera in matte white with black spoiler and grey J5 wheels.
Ten hp more than the standard Gallardo LP 560-4, but about 150 lbs lighter, 0-62 came in 3.2 seconds, all the way up to 204 mph.
I think Hot Wheels got this casting down perfectly. All the character is there, the wheels look great, and the tampos, though only on the front and sides, are tasteful and perfect. The frosty white on this version is great as well.
After picking this handsome devil up, I got a silver Porsche 918 concept not long after, followed by a lonely orange MBX BMW 1M Coupe (still the only one I ever found on the pegs, and still the best version of the casting, period), and it was all over. I can't remember if the HWEP posts came first and that is what made me even look at the HW aisle, or if both events just kinda happened close to each other, but I clearly didn't look back and now here we are.
You'll have to forgive my lack of photo content, as it was waaaay too hot and humid outside to take my time doing this. I do have some customs coming soon and I promise to make up for these photos.