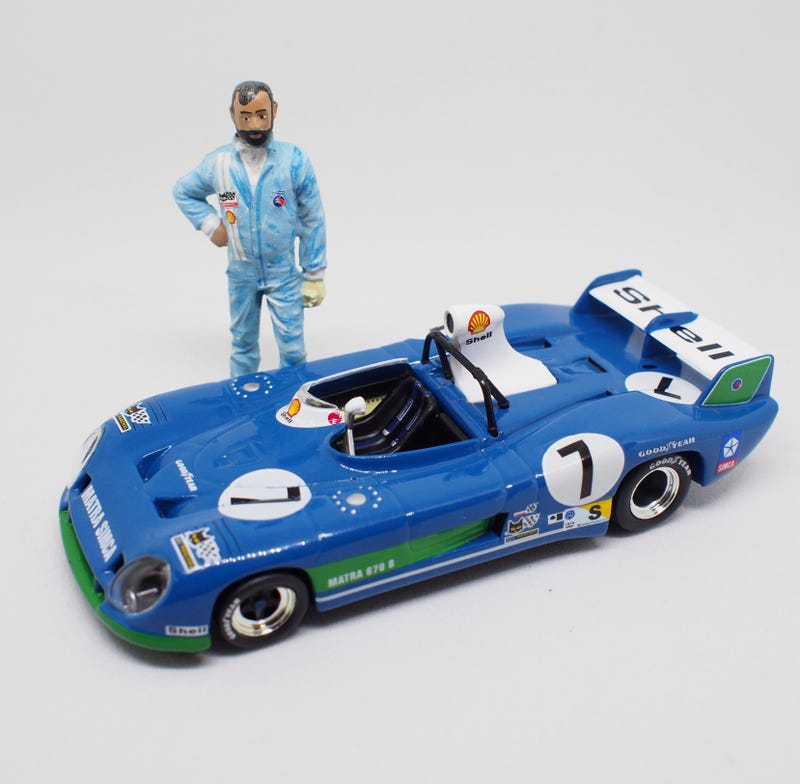 If anyone deserves the title of Monsieur Le Mans, it's Henri Pescarolo. He's driven in the race an incredible 33 times, winning four including the rare threepeat from 1972-'74. He was also team boss at 15 more. In addition, he started 57 Grands Prix, was a top F2 driver in the glory days along with Stewart, Rindt and Courage; and was French F3 champion in his second season. His rallying tally includes 14 Paris-Dakar runs. He was French helicopter champion. And, he holds trans-Atlantic and around the world flying records in piston-engined and historic aircraft. He's also one of those dudes who looks like he eats Gauloises cigarettes for breakfast and sleeps in a giant baguette.
In contrast to those hard, gruff looks, Pescarolo is always described as a quiet, unassuming man. The son of a doctor who had little interest in following in his father's footsteps, he grew up obsessed with airplanes and a desire to be a pilot.
But, in 1964 when he was 21, he heard about Operation Jeunesse, a plan by Sport Motor magazine editor Jabby Crombac to recruit young French drivers as interest in motor sports was beginning to wane amongst the kids. 19 car clubs around France were each given a Lotus 7 and told to find a new generation of drivers with potential to pilot them. Europe 1 radio and Ford France paid for the venture. Over 10,000 young hopefuls applied. Henri heard an ad for it on the radio one day and figured, what the heck? He used to love driving his dad's Triumph TR3 when he was a kid, so he already did have a taste for speed.

It sounded like fun, so I put my name in. For the Paris area there were elimination trials at Montlhéry, organised by the local racing school. I had to do some laps in a Triumph TR4, which was like my father's old TR3, and at once I felt at home. I had never seen a race track before, but my lap times were faster than the instructor's, so I was selected. Who else can say: The first motor race I ever watched, I watched from the cockpit. And I won it. -From an interview in Motor Sport Magazine
A year later, after his father refused to buy him his own single seater, he was hired as a test driver for Matra. His talent was immediately apparent, but he was rough around the edges from his lack of experience. Still, in 1966, just two years after deciding on a whim to drive race cars, he was in his first 24 Hours of Le Mans behind the wheel of a Matra M620-BRM.
He was brought on at the last minute when another driver dropped out. His co-driver was the experienced Jean-Pierre Jaussaud. At the end of the practice session, with Henri having not yet gotten in the car, Jaussaud told him, "Ok, get in and go qualify." And, Pescarolo did just that in the dark of night, in traffic with Ferraris and 7 liter Fords, in a car he was completely unfamiliar with.

They would only last 8 hours that day before the oil pump gave out, but it was an auspicious debut for the young Frenchman. Henri would have four more DNF's before he finished his first Le Mans in 1972. It was a good finish, though, because he won it with British co-driver Graham Hill. He would also win the next two Le Mans in Matras culminating in 1974 in this car, the 670B. It was a glorious period of French dominance that harkened back to the days of Bugatti, Delage, and the like.
In '73, a Porsche had finished fourth, which was something of a surprise since it was a road-car derived car in a field of prototypes. In '74, a 911 Carrera RSR gave Pescarolo and his co-driver Gérard Larousse all they could handle. The Porsche was right with them on the same lap until around the final hour when rain helped Pescarolo pull away for the victory. Both cars had dealt with gearbox trouble a few hours earlier that aided in keeping them close. Amusingly, since the Matra had a Porsche gearbox, they had to go to their rival's garage to ask for parts.
When in 1967 it was announced that prototype engines were to be limited to 3 liters in 1968, it opened the door for companies like Matra to develop racing programs. '68 would mark the first year Matra entered a car with their own 3.0 liter V12 powering it, the MS630. The car was fast from the start and was in second place in the 22nd hour with Pescarolo behind the wheel when a blown tire caused it to crash out. It was followed, predictably, by the MS640 and 650. Pescarolo drove an older MS630 in '69 and did not finish, but an MS650 did finish in fourth, showing Matra's progress.
In 1970, with backing from Chrysler, the team became Matra-Simca. But, the new 450 horsepower MS660 proved disappointing and none finished the 1970 race. Only one MS660 ran in 1971, so Pescarolo had to settle for a DNF in a Ferrari 512 after 120 laps in 13 hours. The Matra bowed out after 263 and 18.
And then everything changed. More rules changes meant no Porsches or Ferraris in 1972 and that gave Matra the momentum for back to back to back wins. Ferrari was back in in '73, but out the following year, and Porsche was in in '74. This 670B was a new chassis even though it shares a name with the car that ran in 1973. There were some Matras in the '74 race with a C-spec that had inboard rear brakes and a full width rear wing.
The model is a 1:43 by Altaya and it's quite nice. It came all the way from Holland thanks to Jobjoris and one of his boxes of wonder. He also sent the awesome Pescarolo figurine.
The Altaya has great details like the rivets in the floor. Funny enough, though, they left off the "Gitanes" sponsorship decals. Cigarettes are bad for you, kids.
Unfortunately, it isn't the best roller, which irks me, but it still looks great. It's an incredible car that marked the end of an era. It was last Le Mans for Matra. Their engines would be back powering Ligiers, but the big blue cars and their rooster logo would be only a memory. Albeit a sweet one.