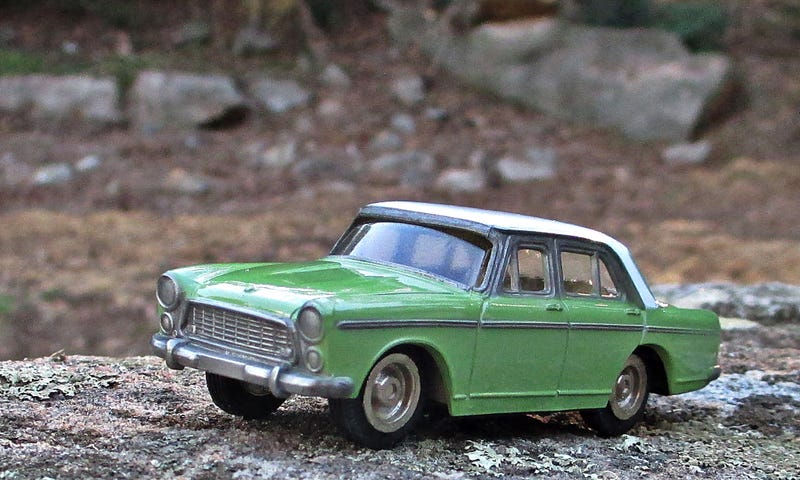 Honestly - do you recognise this car? I didn't. I've been looking at vintage Japanese stuff for over 20 years, and I didn't have a clue what it was.
At the front, it looks almost like a generic European 1960s car. Not a single design clue to give the brand away. At the back, it's has a more distinct look:
But still - I was baffled. So Google Translate to the rescue: It's an Isuzu Bellel. Yes, Bellel, not Bellett.
The Bellel was launched in 1961 to replace the Hillman Minx which had been produced by Isuzu under licence until then. It was their first independent design, and the first Japanese car to be offered with a Diesel engine.
The name "Bellel" resulted from combining the English word "bell" with the Roman numeral "L", equalling 50, and thus the name was supposed to represent "fifty Bells" (Isuzu literally means "fifty bells" in Japanese).
The Bellel was fitted with 1.5 L and 2.0 L gasoline OHV engines, and also the aforementioned 55 PS (40 kW) 2.0 L diesel (DL201) engine. The original diesel engine was called the DL200; it offered 52 PS (38 kW). That actually compared favourably to the larger and heavier Mercedes Diesel cars of the time.
The Diesels however were known to be very harsh - and were also used in forklifts and other industrial applications. The Diesels were often used as Taxis - no surprise there - which helped to offset the Bellel's relative unpopularity with private customers, which resulted from the peculiar styling.
The original end treatment was updated in October 1965 in an attempt to afford the Bellel a more formal, upscale and mainstream look. The facelift included changes to the front fascia, where the previous single round headlights paired with smaller turn signals were replaced by quad round headlights arranged vertically.
It didn't help much - Isuzu only managed tiny export numbers (even a few to the USA), but overall, the car found few friends. Only 37,206 Bellels were manufactured in total, with production coming to an end in May 1967. It was replaced but the also luckless Isuzu Florian - which at least spawned the 117 tCoupe.
The obscurity extends to the makers of this model as well. It was made by Japanese diecast brand Kado - probably in the late 1970s or early 80s. Kado made a strange mixture of 1960s Japanese cars - and Porsches, with a Split Window VW Beetle thrown in for good measure. Later they re-branded Tomica Dandy VW and Citroen models, before disappearing completely,. No luck there either.
And that's the end of this strange tale - enjoy your Sunday everyone.