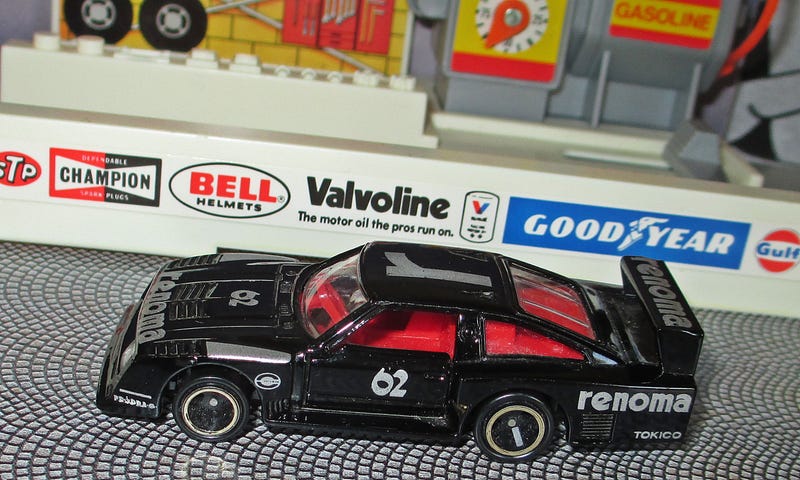 Today we have another Japanese Track Warrior made by Dome - a racing team that already has been featured earlier in a post about the Dome Zero. But unlike the Zero, this car was strictly meant for the race track, and had a perhaps surprising German connection.
The car was developed for the 1980 IMSA GTX season, which was run according to the Group 5 "Silhouette" car rules. The "Silhouette" rule was pretty flexible - you'd be hard pressed to recognize the A40 Celica it was meant to resemble:
There really wasn't much production Celica other then the door skins. The car had a monocoque chassis and used the previous season's Schnitzer-Celica LB's engine. Yes, Schnitzer had indeed spent a few years away from racing BMWs and tried to run Celicas instead. But Tomica made this model as well, so I will tell that story when I will feature the model here.
On paper, the Dome Celica had plenty of potential:
Weight : 860kg
Engine : Schnitzer Toyota 18RG Turbo
Displacement : 2090cc
Max Power : 560PS @ 8800rpm
Gears : 5
Tires : Dunlop
That sounds like a recipe for decent race performance.
Sadly, the car did not have any success. At all.
It raced only three times - and every time, it was plagued by reliability issues:
1980 Coca-Cola Twelve Hours of Sebring International Grand Prix of Endurance
IMSA GTX Class - Started 27th - Finished 78th (DNF - Engine)
Drivers : Nobuhide Tachi (JPN) - Bill Koll (USA) - Tim Sharp (USA)
1980 Los Angeles Times/Toyota Grand Prix of Endurance (5 Hours of Riverside)
IMSA GTX Class - Started 15th - Finished 53rd (DNF - Overheating)
Drivers : Nobuhide Tachi (JPN) - Tim Sharp (USA) - Fumiyasu Satou (JPN)
1980 24 Hours of Le Mans

Did Not Qualify
Drivers : Nobuhide Tachi (JPN) - Fumiyasu Satou (JPN)
Ouch! Maybe that engine wasn't Schnitzer's best work? We will look at that when we look at their racing Celica.
So the Dome Celica Turbo remained a one-off, and a footnote in racing history. But Tomica made the best of it. It introduced the model in 1980 and kept it in production for 10 years. Being a racing car, it just looked the part and I'm guessing not too many people even then would have been aware of it's history of failure.