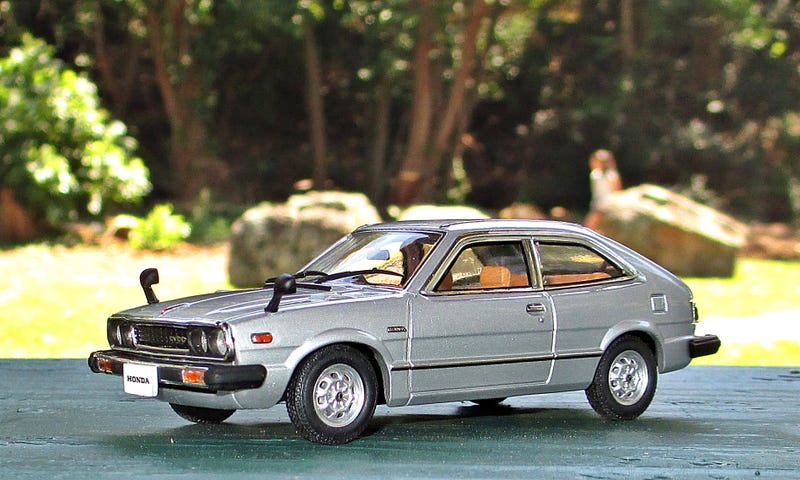 It had taken Honda just 7 Years to become the #4 importer of cars into the US - and they had done that by selling their tiny "600" and Civic models. If they wanted to grow further, a bigger car was needed.
So they started work on "design number 671" in 1972, with clay models completed in 1973. Powering #671 would be a version of the Civic's 1.5-liter SOHC "Compound Vortex Controlled Combustion" engine, stroked to 1.6 liters.
And the car was an immediate success. Motor Trend called it "may be the best automotive bargain ever." It was well equipped, quite cheap and good looking. Why wouldn't people like it?
Re the looks - while it had a bit of the Civic about it, it also reminded a lot of people of the Mk I VW Scirocco. Coincidence? Honda claimed the design was locked in back in 1973 - a year before the Scirocco appeared. Or did Giugiaro lend a helping hand? We may never know.
The sedan version was added a year later - but it was a far less happy looking car. I have good memories of a friend's Accord back in the 80s - silver like this one, but with black interior. We cruised around in it many a weekends, looking for, well, whatever young blokes look for.
The model here is a 1/43 by Ebbro that I found as a bargain on ebay in between Xmas and New Year - always a great time for cheap ones on the bay. It is my first Ebbro, and it does not disappoint. Though - given the choice, I still do prefer more vintage 1/43s. (Nothing opens, and it just feels light and fragile)
Enjoy your weekends everyone!