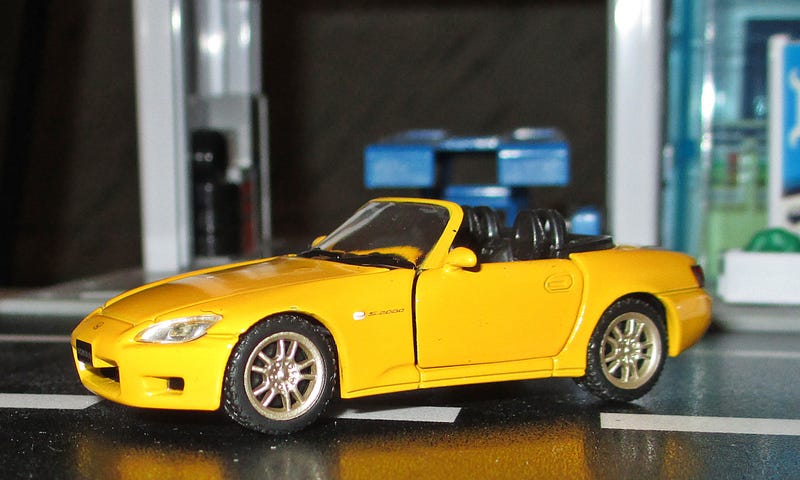 The Honda S2000 is a roadster that was manufactured by Japanese automaker Honda between 1999 and 2009. First shown as a concept car at the Tokyo Motor Show in 1995, the production version was launched in April 1999 to celebrate the company's 50th anniversary. The S2000 is named for its engine displacement of 2 liters, carrying on in the tradition of the S500, S600, and S800 roadsters of the 1960s.
Several revisions were made throughout the car's lifetime, including changes to the engine, gearbox, suspension, and interior and exterior. Officially two variants exist: the initial launch model was given the chassis code AP1, Though cosmetically similar, the facelift version (known as the AP2 in the USA) incorporated significant changes to the drivetrain and suspension. Production of the S2000 ceased in June 2009. In Japan, it was exclusively sold through the Honda Verno sales channel. The version shown here is an AP1 Type V. The AP2 is easily spotted by the rear lip on the back.
Type V (Japan - 2000)
The Japanese domestic market received the Type V edition starting in mid-2000. Variable Gear Ratio Steering (VGS), is a steering system that continuously changes steering ratio based upon vehicle speed and steering angle to provide improved handling. Honda announced the S2000 type V on July 7, 2000 as the first system of its kind. The lock-to-lock steering ratio was reduced to 1.4 turns (Stock is 2.4). Honda outfitted Type V cars with revised damper units, stabilizer and limited slip differential "to complement the VGS." Equipped cars came with a special steering wheel and a VGS badge on the rear. The Type V steering/handling package.
After several years of steady production, sales of the roadster began falling dramatically starting in 2006, and the trend accelerated during the 2008 automotive industry crisis. In 2008, only 2,538 units were sold in the U.S. - a 74% decline from the 2002 sales peak. In November of that year, for the first time since its launch, only 90 new S2000s were sold nationwide during a calendar month.
Production of the S2000 ceased in June 2009 and plans for a successor were scrapped in the aftermath of the automotive industry crisis. During the 2009 announcement of the vehicle's production end, Honda reported that worldwide sales through the end of 2008 totaled 110,673 units.
The model shown here is from the Tamiya "1/64 Collector's Club" Series - a relatively short lived series of turn-of-the-century Japanese sports cars. They were about as good as it got in their day, and still can hold their own compared to today's Kyoshos and TLVs.