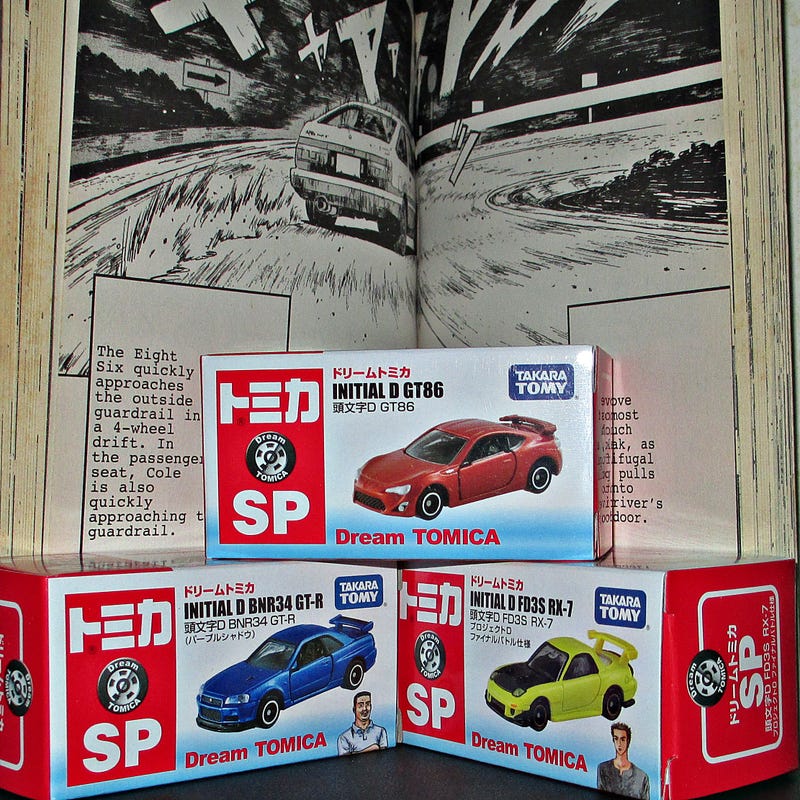 Today we'll have a look at some Special Tomica models that are only for sale through 7-Eleven Stores in Japan. These are part of the "Dream Tomica" series - but being store specials, they don't carry a number. Just the "SP" for Special code. And these are models of cars that don't play massive roles in the series - these are kind of bit players.
The first one to look at is the R34, driven by Kozo Hoshino of the "Purple Shadow' racing Team.
The casting is the same as the one in the Tomica Premium series, though it carries the standard Tomica wheels and a monochrome interior.
He does a couple of runs against Poject D - but loses to Keisuke due to the weight of his car.

Next up is the Toyota 86 - which isn't even associated with a driver in the series. In the Initial D movie: Legend 3, an orange GT86 pulls up to the gas station Takumi works at, with the driver resembling Takumi asking for high-octane.
The same car is seen at the end of the movie, when Takumi sees and challenges it on a tofu delivery. Later, the water spills and the screen turns to white. The plate of the car, 3-954, is a nod to Takumi's AE86 plate in the anime and manga (13-954). This one is actually the 2012 casting, not the recent one.

And the third one here is Keisuke's FD3S. Of course you will notice that this car has been released before - but this one is the way it looked in the Final Stage.
In earlier stages, this car still had its original body. But by the final stage, the car as acquired an RE Amemiya body kit with fixed headlights and a carbon fiber hood.
This casting is also the same as the Premium version, also with standard wheels and interior.
And that's all for today, enjoy your Sundays everyone.