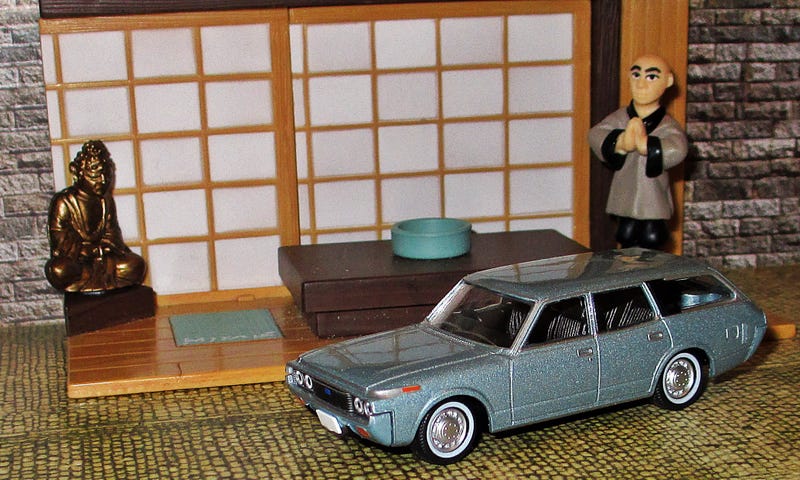 The Crown name has been used by Toyota sine 1955, making it one of the oldest names in the business. They have been occasionally exported to various countries, but their main focus was always the Japanese market.
This is the fourth generation Crown as made from 1971 to 1973. The "Custom" refers to the wagon version here. In Japan, these cars had the nick-name "kujira" or "blue whale", as they were unusually large for the time. The wagon was officially a seven-seater in Japan - though that was a fairly optimistic assessment.
I guess in some ways they were the equivalent of the Chevrolet Impala - large, but conservatively engineered. This model Crown was the last one to be exported to the US - it sold very badly, probably due to the unusual design.
The trunk could be opened remotely by turning the ignition key to the far left, and a button on the floor caused the radio to engage the signal seeking feature. A separate signal seeking feature was installed for rear seat passengers, installed behind the front seat facing the rear seat compartment.
The model is one of the latest released by Tomica Limited Vintage - the sedan version had already featured back in the day in the mainline.
While you can argue about the design of the original, you can't complain about the level of detail on the Tomica. It simply looks sweet. And as I have a soft spot for these old luxo-barges, I had to have one.