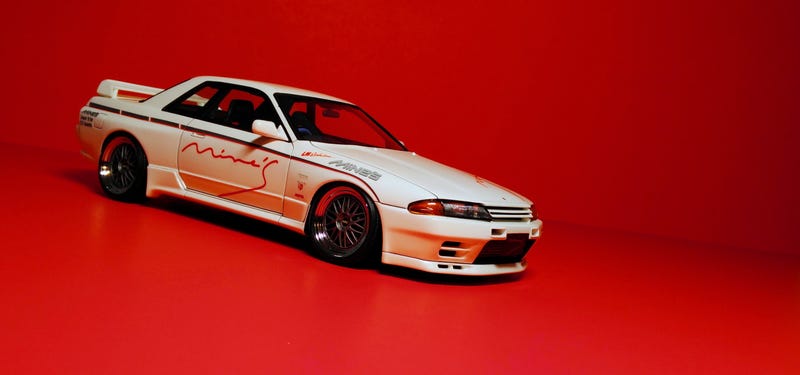 Been sorely missing a R32 in the collection (more will follow; trust me). Set my sights on this model by Ignition and saved up my chips. Fast-forward a couple months or so, and it's now mine's.
It's the Nissan Skyline GT-R (R32) tuned by MINE'S. I don't know a whole lot about them, but I recall driving their BNR34 in Gran Turismo and being totally blown away. Handling was 100% perfect, for what it's worth as a simulator. Also love the livery - nice and simple, with all of the right NISMO-esque colors. Their cursive/scribble/signature logo looks very pretty to me, and so does this car, with its seriously clean modifications. Look, let's admit that the R32 in stock form is a pretty bland-looking car; the MINE'S is anything but.
I had to stretch the budget a bit to get this model, but it's one of the more amazing GT-R's in the collection already because it just looks so good. I found the quality to be a bit shaky for a $250 model, with my R32 suffering from a wobbly rear wheel and minor paint defects. Also, I did not find anything extraordinary regarding the detail on this model. However, one thing Ignition does differently than other brands (from my experience) are the shutlines and panel gaps, which have great depth and look to be painted in to simulate that opening-feature, diecast look. Perhaps this is the epitome of resin done right?
All in all, the price of entry was high, but acquiring this MINE'S Skyline was completely worth it for me. Depending on where your tastes lie (read: tuned cars), Ignition may be a brand you JDM heads may want to look into. I will now proceed with my mission to fill an entire shelf with R32's, just as I have done with the later-generation GT-R's.