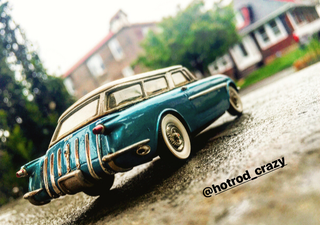 Today I am showcasing my 1/43 scale 1954 Corvette Nomad wagon show car. It's made in England and is part of a series called The Great American Dream Machine Vol2. My dad bought this wagon new to expand his collection of 1/43 scale American cars from the 50s and 60s.
Sadly, this is a solid casting with no opening parts. On the other hand, this wagon is fully detailed inside and out! Even the hubcaps are realistic enough to make your jaw drop!

The car is showing its age since this came out in the early 1980s, but that just adds to the Kool factor. I plan on showing you guys and gals more from my dad's collection, which I am slowly taking over. Below is a photo of the collection. Are there any stand-outs you want me to photograph next? Leave a comment.

You can follow me on Instagram @hotrod_crazy
Thank you for reading! And I will answer all questions as soon as I can.