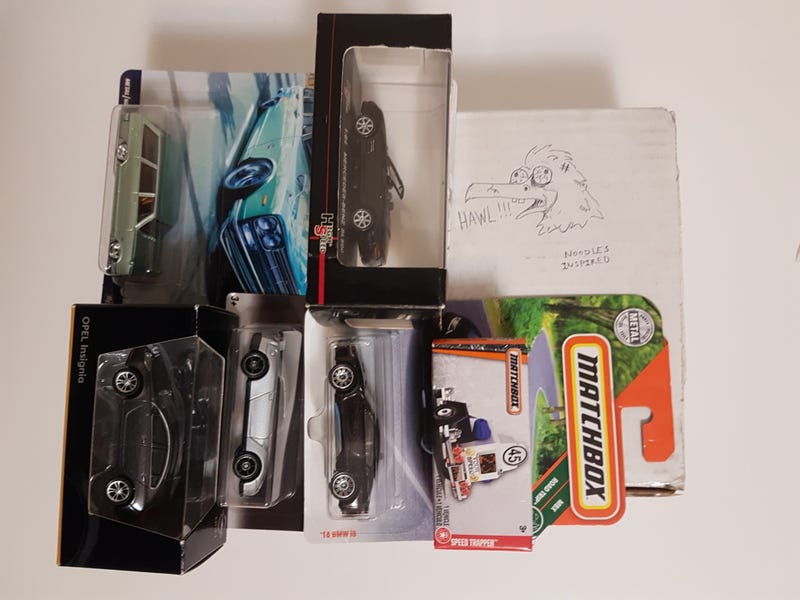 Finally, I have time to post about the other end of this HWEP! Awesome package from Samanosuke that came with a few RAOKs in there too. And it came with a cool little drawing inspired by Noodles.

This is where the HWEP started off. Samanosuke was lacking the black HW Nightburnerz R35 and I happened to have one. Since I knew he needed it more than I did, I was willing to make the sacrifice and make a trade, as long as I get something of the same casting in return so I have that casting in my collection. Luckily enough, the FnF series came out (which I know I'd never be able to find in stores) and that was an easy find for him. We had a trade. And it was perfect because I prefer a silver one over the black.
Second part of the trade was for the Skyline Wagon. This is something I have just no chance of seeing in the wild (side story: Doctor Suarez and I did come across one at a collectibles show a few weeks ago but it was what, $23?!?!?!). The original plan for months was I had an extra discontinued Tomica R35 GT-R JGTC in a Korean box lying around and that was gonna be the trade. He asked if that was enough for the trade and to me, that was more than enough. The trade stalled for a few months and he kinda lost interest in the Tomica. He had to guts to ask if he could trade me for a Mini GT Liberty Walk GT-R instead. Oh whatever, fair trade to me since I paid the same price for that Mini GT and I'd have to pay more if I wanted the Skyline. And in the end, I just threw in the Tomica anyways because I have one already and he'd enjoy it more than me.
Also, this is the last Hot Wheel that I have been looking for. I am officially done. I am done looking for Hot Wheels. No more overhyped Hot Wheels.
Next part of the trade was this MBX BMW i8. It's just something I'd like to have as a pair with an i3 and not something I'd probably come across easily. I didn't tell Samanosuke what I was going to give him in return and I'm sure he didn't mind. All I know is he likes to have the same cars from different manufacturers for comparison and that's what I gave him. Later ended up finding a ton of these at a grocery store but they were almost the price of what I gave him in return. The trade was worth hit.
I like the top and the interior detail.
But the rear is sad in comparison to the Tomica :(
And here comes the RAOKs. Half the package was RAOKs. Not something I usually collect but it's pretty cool. My first Opel AND first Norev in my collection (I guess Buick too). Can you believe he found this for only $1?
Working suspension
This one is probably familiar. Not high end but very nice for $1.
Lastly, this MBX Power Grabs Speed Trapper. I love Power Grabs because they come in perfectly-sized box. I plan on incorporating Power Grabs into my Tomica display one day and this one's gonna look... um...
And if you're wondering how Samanosuke got so much more in the mail than I did, that's because he paid for it. May as well do some hunting plus combine online purchases with him since I had a box going to him anyways. And we ended up with an awesome HWEP!