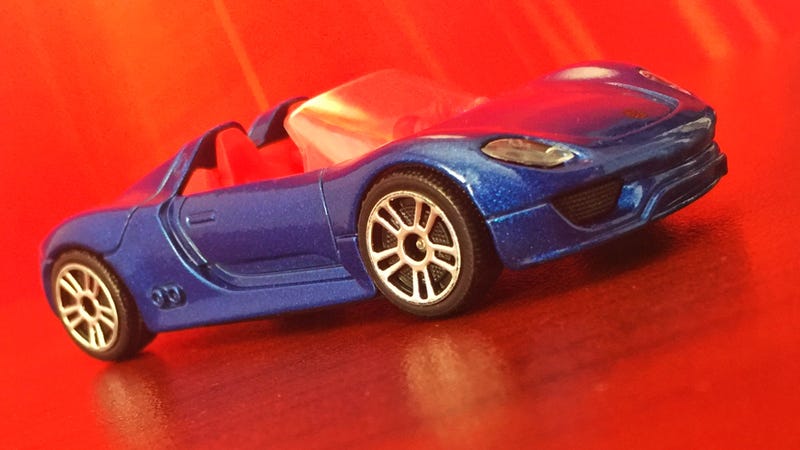 Found a vendor on Amazon selling Majorette 10 Packs for a reasonable cost, and I figured I'd add some Majorette goodness to my collection. I didn't know what castings the pack would contain, so it was fun to discover what would get shipped.
The pack arrived in a good sized box, with no damage, but the pack itself was a bit damaged. The plastic sheet that made the front window was torn, and a couple of the castings were misplaced, the BMW wagon was actually separated from the base a bit, but it snapped back together with only a chip in the paint to show for it.
The highlight of the pack was the Porsche 918 Spyder. Crisp lines, perfect stance, really dig this one.

The Golf GTI was the other standout. Really nice, the grille and headlights are near perfect, its not quite as nice as the MB Golf (mostly because its lighter than the MB...as a whole these seem lighter and in some cases flimsier than good MBs)

The BMW 5 Series wagon survived pretty well, and is a nice casting, but again, a bit light.

Good News! The pack contained a Dacia Duster and a Mitsubishi ASX. The Mitsu is a surprise, I actually like it quite a bit.

The disappointment of the pack...the Audi R8. This one seemed really flimsy for a Majorette, looks ok at a glance, but it is really really light and feels cheap.

The Silverado was a surprise as well...almost as nice as the recent MB Silverado, had sproingy suspension like a Tomica, and the grille is a nice touch. The Fiat 500 is nice too, but its funny to see it almost dwarf the Silverado.

A Honda CR-Z and a lovely Alfa Romeo Gulietta...both with nice opening rear hatches.

Comparison of the rear gate on the Dacia vs a rear gate on a Tomica Forester...I kinda prefer the Majorette method, its less...ridiculous. It probably is a bit less robust and would take a lot less abuse than the Tomica method, as it is the Dacia gate pops off the hinge on one side sometimes...but it does look cleaner and more realistic.
As a whole, I'm really happy with this purchase...and at 20 bucks for 10 cars, not too outrageously priced for something you just don't see in the US. Might grab another pack or two when the mood hits. It does seem like they pay a bit more attention to details than MB or HW especially, but they do seem flimsier and lighter in general than MBs or HWs....possibly to the point where they arent always worth the premium cost. But at $2 a car in this case, something I can live with. Plus, the backing cardboard in the pack made a nice photo background!