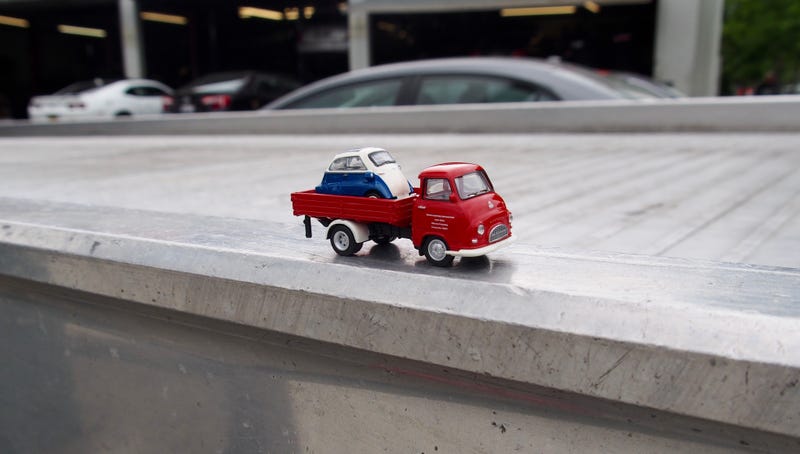 Here's an Isetta in 1:87 getting a ride on the back of a very cool truck, the Hanomag Kurier. Hanomag was a pretty interesting company, if we can tangent away from BMW for a moment. They got their start in 1835 and still exist, although their time with cars and trucks was limited to the middle of the 20th Century.
Hanomag started as a steam engine company called Eisen-Giesserey und Maschinenfabrik Georg Egestorff (Iron Foundry and Machine Factory Georg Egestorff). They eventually started manufacturing locomotives, supplying many to Finland, Romania, and Bulgaria before the start of the First World War. They also built some road going steam waggons for the German army.
After the war, there wasn't much demand for steam vehicles, but there was a big need for cheap transportation. So, Hanomag switched from building mighty engines, to tiny cars and, in 1924, introduced the famous 2/10 PS "Kommissbrot," one of the world's first people's cars and, with a rear mounted motor and rounded on the ends shape, one of the inspirations for the Beetle.
They later achieved notoriety for being one of the first to put a Diesel engine in a passenger car in 1936. The Diesel Rekord (no relation to the Opel) even appropriately set a Diesel land speed record of 95 mph in 1939. During WWII, the name Hanomag became synonymous with their huge, half-track troop carriers.
After the war, they built a prototype for a 3-cylinder economy car, but ended up finding their niche with tractors and trucks, once again pivoting to survive. Their first truck, the L28, was released in 1950, but it wasn't until 1958 that they hit upon a real winner with our friend the Kurier here.
The Kurier was the smallest Hanomag and its happy mug became a common sight in Germany and around Europe. It was originally powered by a 50 horsepower Diesel and had a 2 ton capacity, not bad for a small city truck. It was later offered with 60 hp gasoline engine for those who wanted more power and less torque. The larger Garant and Markant trucks could carry up to 3 and 5 tons. All three could be had with flatbeds, cargo boxes, or as vans. They even made firetruck versions.
The Kurier and its brothers stayed in production until 1967 when they were replaced by the as boring as their name F-Series of trucks. These were boxy and ugly things that were a sorry follow up to one of the friendliest faces ever to grace a commercial vehicle.
Hanomag's truck division was eventually sold to Daimler Benz. The tractor part found its way to Komatsu through Massey and Ferguson, and the Hanomag name still graces construction equipment.
The Isetta is a 250 and isn't dated, but with its sliding side windows must be post 1956. By this time, Isettas could be had with a larger 300cc engine, but the 250 was still offered for Class IV license drivers.
The model is a beautiful 1:87 by Schuco. I really dig these tiny models and this is the nicest 1:87 I have. Everything looks in proper scale. I image an Isetta would fill up about that much of the bed. And, the details on both cars are great.
You can even see the "Kurier" script in the grille. I think this was less than $30, and well worth it.
Even the teeny Isetta looks great. The rig goes well with my other car carrying a microcar Schuco:
Happy ///May!