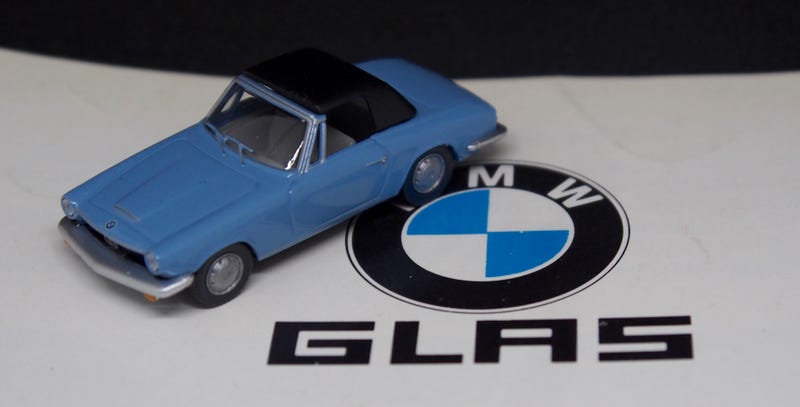 In 1966, BMW bought a quirky little German car company that was basically a mom and pop shop that had survived thanks to a microcar with a funny name.
The Hans Glas company dated back to the 1850's when a man named Johann Glas started building farm implements. By the 1920's, Johann's great-grandson Hans was in charge and the company was Bavaria's largest manufacturer of farming equipment, mostly building sowers and harvesters. Conditions after WWII meant the demand for expensive new farm equipment was low. But, luckily, Hans's factory survived, so he did what a lot of small manufacturers in Germany were doing. He turned to cheap transportation and began building scooters.
Hans named the scooter the Goggo after his nickname for his grandson. The Goggo was a big hit and soon Hans set his sights on the car business. Hans had once worked for Ford, and decided he knew enough to tackle building a car in house. Hans and his son designed the Goggomobil from the ground up, and a Glas engineer designed a new 2 cylinder two-stroke engine to be built at their factory. This was almost unheard of for a microcar manufacturer. Most micros used off the shelf engines from Sachs, or Ilo.
The little Goggomobil was an incredible success, becoming the best selling microcar of all time with almost 300,000 built. It was so popular that BMW even kept making them until 1969. The car was a really clever design, a great use of space in a tiny package. It was also well built and, most importantly, it didn't look all that weird. It was really small, sure, but it basically had the proportions and shape of a normal with no strange doors, or passengers straddling the driver.
Sales of Goggomobils allowed Glas to branch out into regular sized cars, but they never matched the microcar's success. And, microcars, as cheap as they were, didn't make the company a lot of money. Glas insisted on staying independent, refusing outside investors. This meant he never had the resources to modernize and expand his factory where the cars were mostly built by hand.
It's a real shame because, by the time they were forced to give up and sell out to BMW, they were making some really nice and interesting cars. They were the first car company to use a timing belt with an overhead camshaft. This technology was BMW's main interest in the operation. Glas had also started to build beautiful, sporty cars like this GT.
The body was designed by Pietro Frua and was actually constructed at Frua's shop in Turin, Italy and shipped to Germany. Unfortunately, as stunning as the car was, Frua didn't do a very good job building them, and many of those bodies arrived at the Glas factory already rusty. Plus, this was an expensive process. The 1300, and later 1700 GT were popular, but unreliable, and Glas couldn't keep up with building and repairing them. With Hans's health failing, the company's demise was inevitable.
BMW did keep the Glas name alive briefly after the merge. They slapped double kidneys on the GT and put their own 1600 motor in it to create the BMW-Glas 1600 GT, the car we see here. And, they kept building Goggomobils, and 1304 CL's, the funny looking hatchback in this brochure.
It's said that car inspired the 2000 Touring. This is a plastic 1:87 by Wiking. It's a good roller and I like that it has a removable top. It's pretty detailed for plastic, and they get the car's shape right. It's a beautiful 1960's design with that sexy slope down the side.
This car's not quite as sharp up close as yesterday's Schuco, but it's not bad.
BMW only built 1,200 1600 GT's, but I guess we should be thankful they made any since it was so different from the Neue Klasse cars that were now in full swing.
BMW took over Glas's factory in Dingolfing and they're still there. They've obviously expanded it many times over the years because it's now the largest automobile factory in Europe. And the use of the OHC timing belt certainly changed BMW's cars. So, Glas lives on today even if their name is largely forgotten.