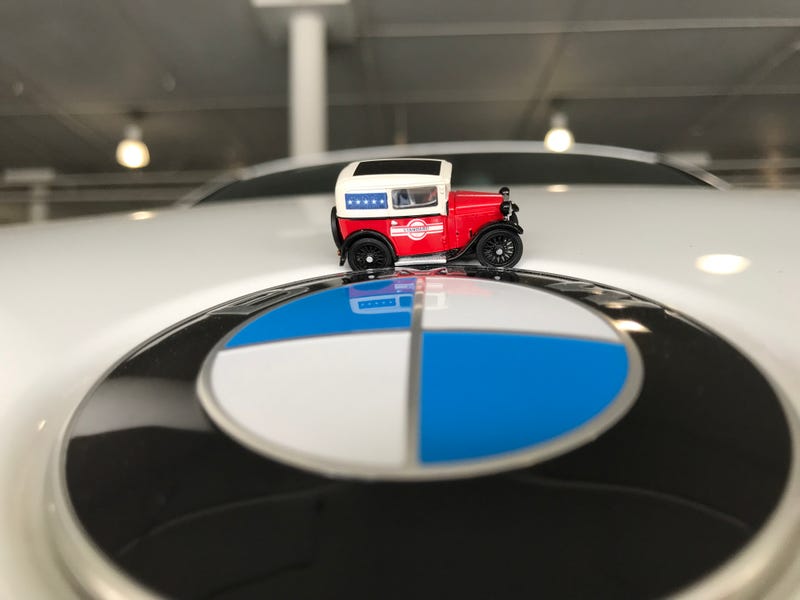 The letters "BMW" and their accompanying roundel today conjures thoughts of luxury and performance, but a lot of people don't know how humble BMW's beginnings were. Their first car, here in lieferwagen (van) configuration, was a license built Austin 7 called the Dixi.
BMW was formed out of the merger of two companies. Gustav Otto (son of Nikolaus Otto, inventor of the four cycle, or Otto cycle, engine) had started an airplane factory on the outskirts of Munich in 1911 called Bayerische Flugzeug Werke. Nearby, Karl Rapp had a marine and aircraft engine factory called Bayerische Motoren Werke. The two companies formed a sort of partnership during WWI to build military planes with one supplying the airplane and the other the engines.
They went their separate ways after the war for a bit. BMW started manufacturing railcar airbrakes, and BFW turned to office furniture. But, both companies still had transportation in mind. A man named Max Friz at BMW designed several OHV utility engines that could be mounted in boats, busses, or used as a stationary engine. And BFW started producing a horizontally opposed 2 cylinder 500cc motor that was intended as a stationary motor, but began powering Victoria motorcycles.
In 1922, a Viennese banker bought both companies, merging them into the BMW we all know and some of us love today. A year later they debuted their R32 motorcycle beginning a long line of some of the most respected motor vehicles ever made. The R32 was a pretty radical machine for its day. It had a transverse side valve twin-cylinder engine in unit with the gear box with shaft drive, something unheard of in a touring bike.
In contrast, the little Dixi was a pretty primitive car even for the 1920's. BMW started building Dixis when they bought Fahrzeugfabrik Eisenach in 1927 shortly after that company had acquired a license to build Austin 7's. It was the most basic of basic transportation, powered by a 15 horsepower, side valve inline 4 cylinder. Despite this, it still scored BMW's first racing success on four wheels when it won its class at the 1930 Monte Carlo Rally.
By 1932, BMW was offering a 20 horsepower version that could reach 65 mph. That was the same year they introduced the 303, the first BMW powered by a straight six.
BMW sold over 25,000 Dixis in its 5 year lifespan. An really impressive number for the time.
The car was really tiny and could really be called a microcar, a segment BMW would turn to again after the next war.
The model is a 1:87 by Brekina. It's all plastic and is really nicely done, I think. It's got great detail for something this small. It also rolls perfectly, something my cat appreciates.
I never thought of myself as a BMW fan before this, but I'm realizing they made a lot of cars I really love. I still like my father's Audi over my mom's 4 series, but a lot of that has to do with the X-Drive, I think, which seems to suck a lot of fun out of the car.