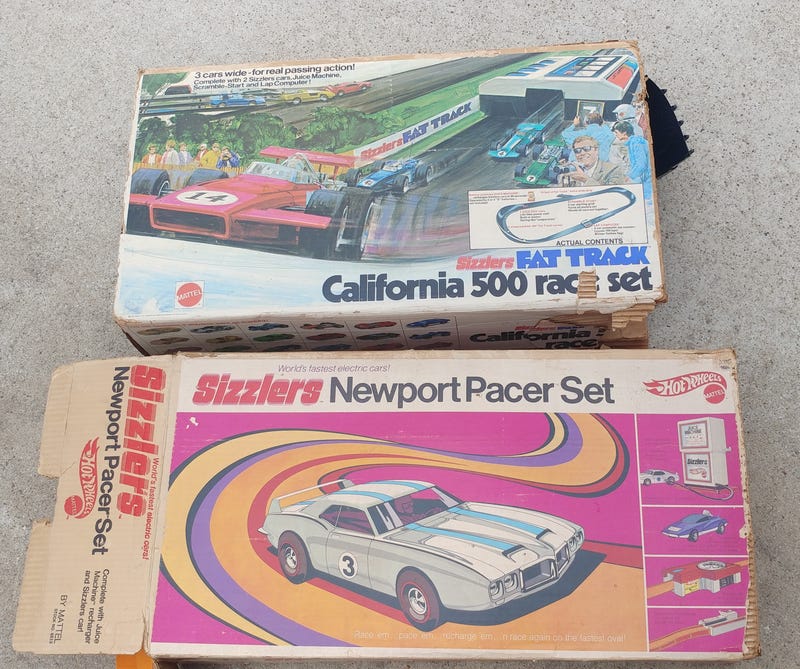 I decided to check out an estate sale that had tons of large scale NASCAR. It was a short drive from home so no big deal if I didnt find anything. It was my lucky day as you will see. This hawl ranges from the 70s to last year and from 1/18 t0 1/64.
The first things I snagged upon getting to the sale are the 2 sizzler track sets up top. They look to have all the major components. Well almost all of them. Unfortunately no sizzler cars were included. I'm a sucker for the old packaging so I had to have them.
Next up some American muscle from Ertl and Racing Champions.
My lone MBX pickup is the sweet First Edition Bel Air set. I'm super happy to finally have found one for my collection. The Ertl kit was an impulse buy. Couldn't resist the Buick GN kit.
I couldnt pass up the black box HW. Its a nice little assortment of good castings.
A few mainline finds mixed with some semi premium offerings. The highlights are the DB4 and the Daytona in the WWII livery.
Real Riders for the win.
Got my first HW Hall Of Fame cars. I was super excited to find the black Gt40. I can't wait to DLM it.
Saved the other scale stuff for the end. I've got a couple of old slot cars that I haven't figured out the maker on. Same goes for the 3 Ferrari in the front row. They are super detailed. We also have a muscle machine MR2 and an as yet unidentified WWII plane. The 1/24 is a very nice Cobra from Welly. Up top we have the Porsche Design Minichamps 911 GT3 in 1/43. Last but not least is the 1/18 Burago Porsche.
Overall it was an awesome hawl. A few things are going into the permanent collection and some will be passed on in a future sale post.