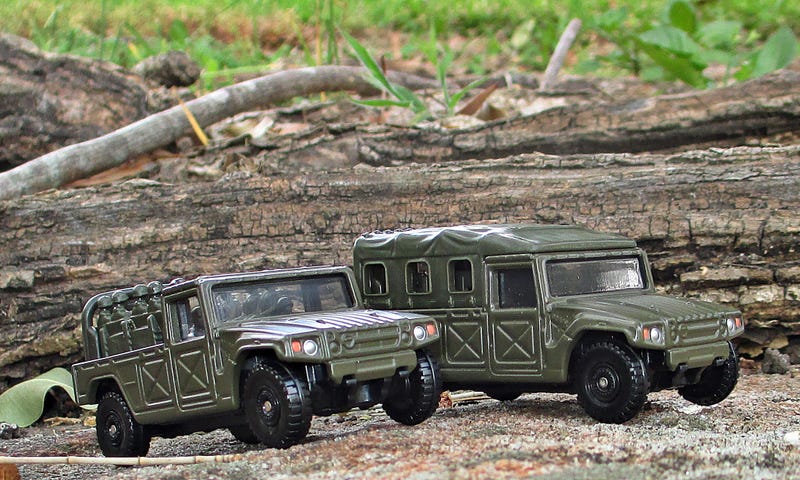 Yeah, nah, that's not a Hummer, it's a "Kohkidohsha" - Japanese for High Mobility Vehicle. Developed by Toyota as a private venture, this military machine is based around components of the Toyota Mega Cruiser civilian heavy-duty off-road vehicle which was sold exclusively in Japan.
It is also a very recent Tomica release. And as you can see, they gave us two versions up front - one with a removable canvas top - and one with a full compliment of toy soldiers inside.
Currently this vehicle is in service with the Japanese Ground Self-Defense Force and is used in large numbers. It replaced many existing Type 73 Chugata (2 000 kg capacity) and Isuzu (2 500 kg capacity) light utility trucks. It seems that JGSDF soldiers call it "Koh-Ki" for short.
The main role of this vehicle is infantry transport. The Kohkidohsha has a payload capacity of 1 500 kg. In standard configuration it accommodates driver and 9 passengers.
The vehicle is powered by a Toyota 4.1-liter turbocharged diesel engine, developing 170 hp. It produces high amounts of torque at low revs. The engine is mated to a 4-speed automatic transmission. It has a full-time all-wheel drive and four-wheel steering. The Kohkidohsha is fitted with run-flat tyres.

And despite being all Japanese - it looks right at home in the Australian bush, doesn't it?