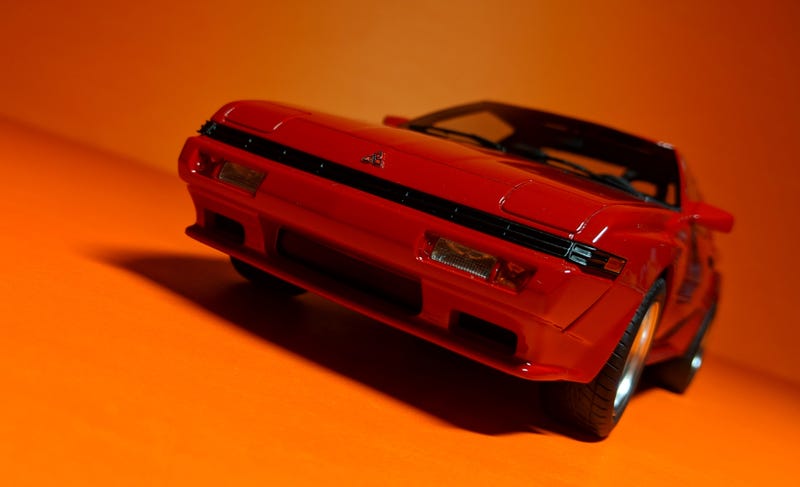 Porsche 944 Mitsubishi Starion, by LS Collectibles.
The average person has never heard of this car, but in the automotive circle, the Mitsubishi Starion's reputation precedes itself. The 80's was an era defined by boxy, hatchback-y, 2-door sports cars, and the Starion was the prime (and, arguably, the pinnacle) example of that. In a field consisting of fellow contemporaries such as the Mk.III Supra, FC3S RX-7, Z31 Fairlady, and the aforementioned 944, the Mitsu stands out among the crowd by way of its aggressive and muscular look.
The Starion was available as narrow and wide-body formats, and this one here represents the fatty. For all I know, LS Collectibles is the first maker to take on this cult classic in 1:18 scale. They're a brand that I don't see anyone talking about (or buying), so let's get the ball rolling.
Being a sub-brand of Top Marques (which, itself, is a sub-brand of BBR - yes, that BBR), they're certainly no slouch. The detail is on par with its competitors in GT Spirit and Top Speed, and they're all priced similarly, but I find the fit and finish to be better than the former. By fit and finish, I mean things like glue marks and trim paint - both of which are tidy on this Starion. I also find the lines/creases/gaps and auxillary pieces (i.e. lights, wipers, etc.) to be sharper than on GT Spirit's models, but that may or may not be the Starion's squarish shape subconsciously feeding my brain. As far as paint is concerned, I'm not a huge fan of their color palette - Top Speed destroys the competition in this regard - but I don't see anything wrong with its quality. 

Each model comes packaged in a sturdy cardboard box and screwed onto a plinth. You have to cut open the layer of felt under the plinth in order to access the screws and take the model off the base, a characteristic shared with Top Marques and BBR. Be warned if you ever purchase a "brand new" model and find cuts behind the base.
Models in this price range typically don't come with fancy amenities such as mesh grilles, and the same applies here. However, the badges and wheels look fabulous. Other little details such as the rear defroster and the metallic finish of the disc brakes and exhaust complete the look of this Starion.
Star of Orion indeed.