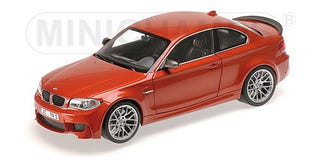 Since this forum exploded last time around, I figured a lot of you would be interested once again in some cheap Minichamps 1/18 models. This time, the source is this eBay store that I came across through my bad habit of wasting my life (and my money) away on the app. There are some pretty nice deals here including the BMW 1-Series M, shown above (also available in other colors), for around the $60 mark. Shipping is cheap too, and additional cars ship for free. I myself nabbed a couple SLS AMG's - one coupe and one roadster - in addition to a blue 1M that will pair nicely with my GT Spirit version. Sure, it's an inferior model, but it's diecast for all you sticklers out there.
There's also a 991 Cabrio for cheap there. And if you want that RS6 Avant that Pillarless Coupe reviewed not too long ago, you can have it for around $80. McLaren F1 or fax machine racecar? Seventy-some and it's yours.
Seriously, lots of nice deals there.
And sorry DTG, but looks like I'll have to take that 599 off your hands instead.