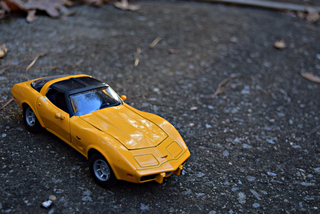 So, Happy Thanksgiving everybody! Today I present a not-so-great model of a car that I despise all around from an era of American manufacturing that wasn't that great. So, why do I have this thing in the first place?
Aesthetics.
Actually, not really. There's something that drew me to this model, though I'm not sure what it is. After acquiring my Welly BMW 2002ti, I saw myself needing more vintage cars in the collection. I was browsing Wal-Mart for some Hot Wheels and Matchbox when this hit my eye, a bright yellow, 1979 Corvette. And I grabbed it, and I haven't looked back since.
I'm not gonna beat around the bush here, this model is terrible. The panel gaps are atrocious, it's clearly got a rear suspension problem, and the rear wheels stick out like it's #stancenation. But I accept it for what it is...Motormax is no Kyosho, but it's unique, and a much welcome part of my collection...as long as you don't look to closely at it.