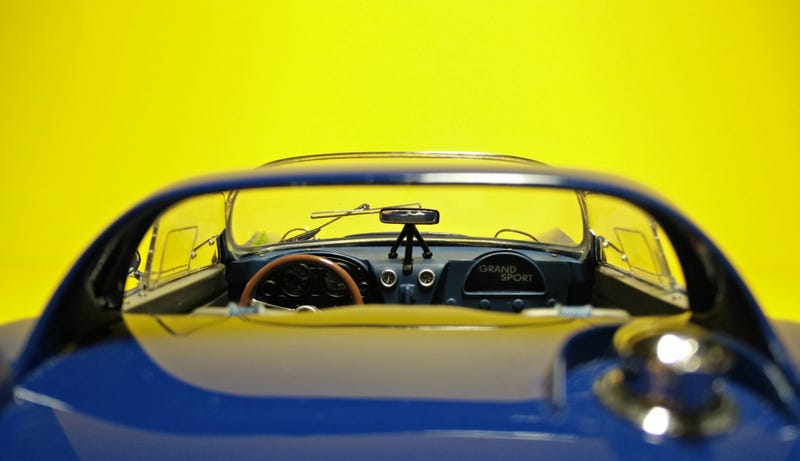 Thursday, September 6, 2:48 PM. It's another cloudy yet surprisingly hot afternoon here in southern California. A mysterious brown package, approximately 16" x 8" x 8", has descended from heaven and landed at my doorstep.
The addresser: some dude named Nadeau. The name rings a bell, but I've only heard inklings about him. Rumor is he works for Maisto, the leading innovator and premier brand in the 1/18 scale diecast market. Online and social media propagandist, I've been told. Based on the articles I've read on some internet forum/blog called Live and Let Diecast, that's likely to be true. But the pressing question is: what's in this package - and why has he sent it?
Instinct tells me it's a Maisto. After all, there's no better way to promote product than by putting it in a consumer's hands. Truth be told, I'm hoping it is. They're far and few between in my collection and I'd be delighted to have another one. I look around, eyes scanning the shelves that I so proudly set up to display my cars. I count only two of them: a red Alfa Romeo and a green Ferrari. Exquisite pieces they are, but alas, I usually have to settle for AUTOarts and resin models instead.
Entertaining the possibility in my mind, I thought... this would be wonderful, like an early Christmas gift. I wonder if this Nadeau guy is Santa Claus in disguise.....
I reach across the table to grab my box cutter, blade already dulled from repeated unboxings of lame GT Spirit and Otto models. My imagination starts to wander. Gosh, those plastic models don't even have opening parts. These Maistos - they have it all. Fully functioning doors, hoods, trunks, and steerable wheels. Could this be the Centenario I've been dreaming about?
I've sidetracked yet again. But just as quickly as I had gotten my hopes up, my heart sank in disappointment as I pull back the flaps on the box and toss aside the styrofoam padding to reveal the inner contents.
It's not a Maisto.
The white box is plain, with a black emblem in the middle that reads "Racing Legends". I've never heard of such a brand. Digging through the multiple layers of packaging, I finally get to the car itself. And it's everything but what I was expecting.
It's a blue Corvette convertible, a racecar of some sort, with the #10 designation on all four sides.
I'm angry. Infuriated, even. Part of me wants to toss the Corvette straight in the garbage, but it's not worth scratching my trash can for this. Why this?! I don't even collect muscle cars. Furthermore, the thing looks like a fossil next to my fleet of modern supercars, exotics, and JDM machines. He should've known better. Shame on him.
I'll admit, I do like the color scheme though. The yellow contrasts nicely with the dark blue. But the model proved to be unspectacular and, most of all, fussy. Too many wires and small parts going on. I'm afraid I might break something; at the same time, not much would be lost if I did.

At least this one has opening parts, though, making it a rarity in my collection. So I get to playing.....
Lifting open the hood - obviously something is wrong as it opens backwards - reveals more wires and small parts. What a mess. Visualizing it alone gives me a headache. I'd much rather have a simple piece of black plastic, like the ones you see on Maistos, with perhaps some splashes of paint to give it just enough detail. This was totally uncalled for and unnecessary. And what is this black tape doing on the fenders?
There are so many other questions. Why is the exhaust yellow? Where are the headrests? What happened to the passenger side mirror? Where are the headlights?
What is this grey, fuzzy thing on the interior?
Is it mold?
I could go on and on, but talking about it only worsens my mood. Therefore, a photodump shall suffice.
Damn him. Damn him so much.
TL;DR: Cheap Exoto from SN210. Very fancy.