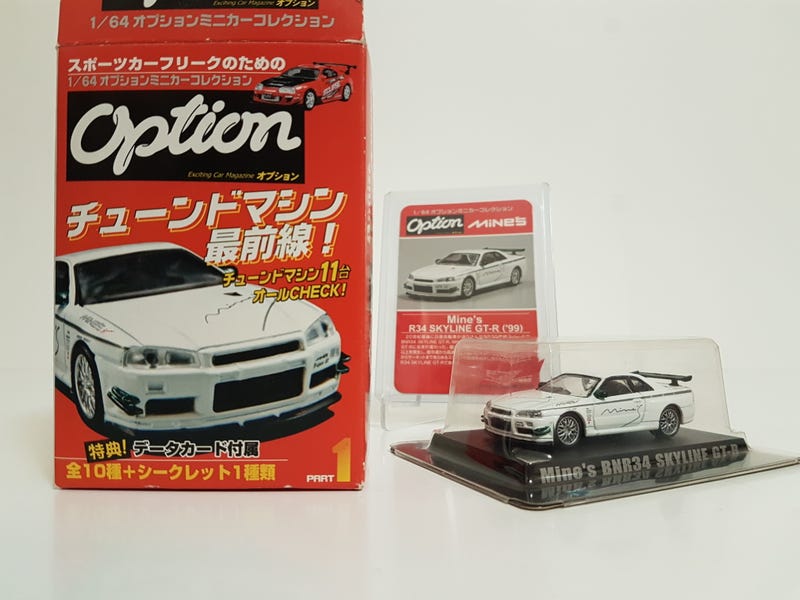 11 years ago from this day, I purchased a diecast model. Over time, it earned the status of being the most important piece in my collection.
It was a rainy day in Los Angeles and my family decided to go have lunch at a dim sum restaurant in Chinatown for whatever reason. While waiting for a table, my cousin took me downstairs to a Japanese hobby shop and I decided to buy an expensive diecast. Although the receipt says 6:58pm, I'm pretty sure we were there for lunch otherwise they wouldn't have been serving dim sum and we wouldn't have gone to eat there.
12/16 update: [facepalm] I think I know why we went to Chinatown. We just celebrated with my grandmother for her birthday yesterday.

When I bought it, I didn't even know it was a blind box. All I wanted was the Skyline as shown on the box. I'm very fortunate that what I got was the Skyline as shown on the box.
It took me a few years to figure out whether I had the White or the Pearl White.

Little did I know that over the years, the Mine's BNR34 would into my favorite car of all time.
Fast forward 9 years. Basically this one diecast was what inspired this. This specific piece was what got me back into diecast.
It's easily my favorite piece in my collection.

Although $6.99 was considered quite pricey for me back then, I now consider this piece the golden standard. It's just the right price for the right quality.

After getting the last few HWs I've been looking for in recent weeks, I have now come to the realization that I no longer want to collect Hot Wheels. I'll keep what I have and buy a few here and there but I no longer want to chase hype and keep amassing large quantities of diecasts I don't admire just because it's hard to find and I was able to find it. I want to regain my focus on why I got back into this hobby in the first place and collect quality pieces like this at good prices. My options are limited but luckily there's been a good stream of options lately.

And if you're wondering why it's still in the package, I made a promise never to take it out of the package 11 years ago. If you ever hear that I took it out of the package, that means have quit diecast for good.
I'd love to buy another loose one but with secondary market prices nowadays, I'd rather spend it on a resin 1:18 version. And boy am I happy that it's going to happen

https://otto-models.com/en/ot760/523-nissan-skyline-gt-r-r34-mine-s.html
---
Update: I forgot to add the part about where it lives. It sits on a shelf right next to my desk in the spot closest to my line of vision, surrounded by a few Nismo 400Rs. It is held in place by a little bit of quake putty in case of any accidents. As for the box, it has been used to hold 3x5" index cards for more than a decade.