I just wanted to say what a pleasure it has been being a part of the Lald diecast enthusiast community!
I've seen some astonishing customs, seen some brilliant photography, learned quit a bit of history, and had some great HWEP's. Last week my wife and I found out that we are having a boy! I'm going through every emotion a new parent experiences....again. You see, I have two adult daughters from a previous marriage and I'm also a grandfather to a beautiful little 18 month old girl.
To be honest, having another child was the last thing on my mind. My wife had other plans, Haha! Last May we lost a very premature little girl, and as devastating as that was, we chose to try again.
A month after losing our little girl, I was diagnosed with stage three melanoma. For those of you unfamiliar, melanoma is a cancer that primarily starts on the skin. Unlike other skin cancers, melanoma will travel anywhere in the body, including the eyes and brain.
I've had a couple of surgeries to have spots removed, and the lymph nodes from my right thigh removed. It was at my doctor's urging that we decided to give it another shot. I could live the rest of my natural life with no problems, or it could flare-up, grow and take me in a matter of months. And if I start treatments, let's just say the meds kill -everything-.

Knowing that I'm going to have a son is incredible! I hope and pray that he will share my passion for racing, vintage cars, and of course, diecasts! The wife had chosen to paint the baby's room in the famous Gulf light blue and orange, even before we knew it was a boy! Now that I know there will be a fair amount of testosterone in the room, I will be hanging pictures of Gulf liveried GT40's and 917's! But to start off his collection I chose the Greenlight Gulf Ford truck hitch & tow set.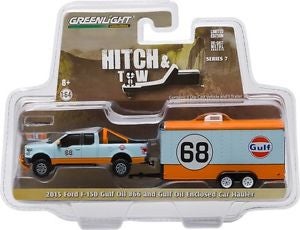 Thanks for sticking around to the end of my ramblings! And THANK YOU all for making me feel welcome in the Lald community!
See you in the aisles!