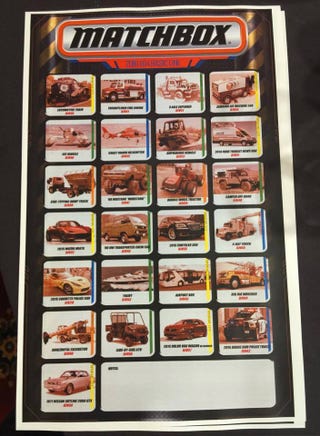 Yesterday, the Matchbox Gathering of Friends in Albuquerque, New Mexico ended. Before it was over, the Matchbox design team presented the poster shown above. It displays new castings being released for the 2016 line! The new castings are:
(All realistic castings are in in bold.)
Locomotive Train
Freightliner Fire Engine
3 Axle Explorer
Zamboni Ice Machine
Ice Vehicle
Coast Guard Helicopter
Amphibious Vehicle
2014 Ford Transit News Van
Side Tipping Dump Truck

1968 Mustang "Mudstang" (prepro below)
Double Wheel Tractor
Off Road Camper
2015 Mazda Miata
1990 VW Transporter Crew Cab
2015 Chrysler 300
X -Ray Truck

2015 Corvette Police Car
Yacht
Airport Bus
Big Rig Wrecker
Horizontal Excavator
Side - By - Side ATV
2015 Volvo V60 Wagon
2015 Dodge Ram Police Truck
1971 Nissan Skyline 2000 GTX
My thoughts? Still a lot of fantasy/"Matchbox Original" castings, but there are more real cars, namely the VW Transporter, Mazda Miata, and Volvo V60 wagon. The Mudstang is . . . . unique. We'll have to see what that one looks like in final production form.
What do you think? Any particular favorites?
All photos and information from the Matchbox Collector's Gathering Facebook Page.