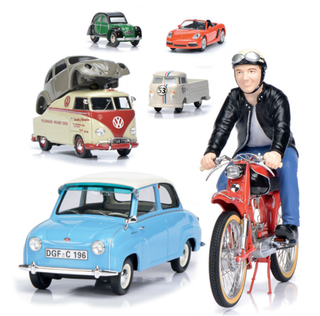 Although you might not be aware, the 2017 Nuremberg Toy Show started yesterday (it runs from the 1st to the 6th), which is why so many upcoming models from various manufacturers have been unveiled. Schuco has revealed the 2017 New Models Catalogue, showing number of interesting releases slated for later this year.
All pictures are from their website or are screenshots from their catalogue.
Among the highlights, there will be, in 1:18, a newly tooled BMW Isetta export version in diecast, as well as a Zündapp Janus and Goggomobil in resin.

New additions to the resin 1:18 lineup are the Jaguar E-Type Hearse from Harold and Maude and a Volkswagen Type 1 pickup, both previously available in the resin 1:43 lineup.

Diecast additions in 1:43 include a T3 towing an Isetta on a tiny trailer, a T1 camper in glorious brown and beige, a Mercedes-Benz 170V with a wood gasifier, and a Type 1 towing a tiny 1-wheeled luggage trailer.

New to the resin 1:43 lineup are a couple of Type 1 vans and a T1 carrying a Type 1 body, among others.
New introductions in 1:64, LaLD's most popular scale, are new versions of existing castings - the first high-roof T3 camper, a Polizei version of the /8, fire brigade and Swiss PTT versions of the Type 1, a Rover Mini with a rollback canvas roof, and a new colour for the Huracán.
Finally, new among 1:87 models are a Porsche 924, new versions of the Mercedes-AMG GT, a Martini-liveried Porsche 918, the new 718 Boxster and Cayman, and the new Porsche 911 R, which is not shown in developed form yet.
Also, apparently Schuco does have an official distributor in the U.S. in California, though I'm out of luck here in Canada, as the only mentioned distributor on their "dealers" page appears to have closed - that page on the website is less up-to-date than the same page in the Catalogue.
The entire catalogue is viewable here.