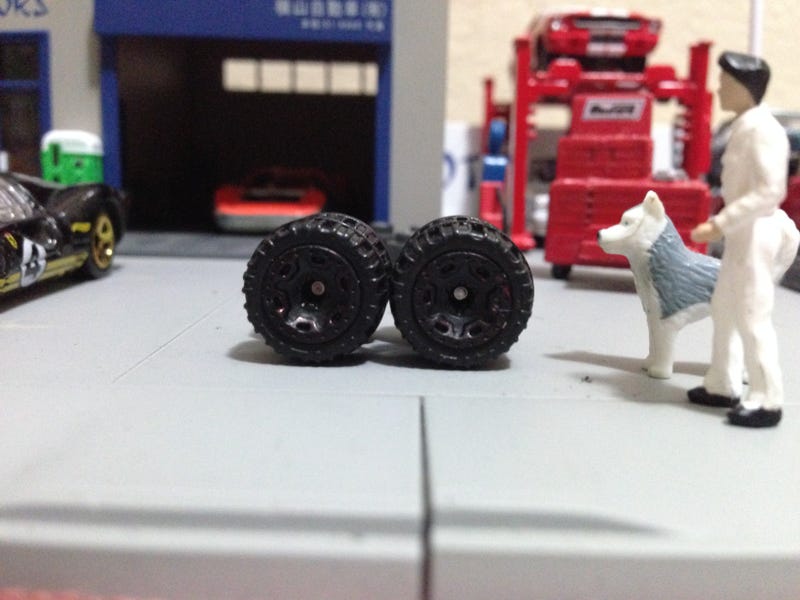 The new "rubbers' are in, these will be more than enough to tackle the rough post-apocalyptic environment. I'm not aiming for a monster truck (car), just enough for survival and maintain as much agility as possible.
One other thing, did you guys really think I would sacrifice my meticulously detailed Ford Raptor for this project? Heck no!

I went and picked up this as my victim:
There are two big reasons why I chose this, first, it's a fantasy casting that I won't lose sleep over destroying. And two, the cast features a few aesthetic components that I can cut off and use to make the GT40 more wasteland-ready.
That's my little ceremony to this Off-Duty and now it's off duty for good.
Meanwhile, the first cuts on the GT40 has begun to make room for those new wheels, the cast is holding up strong which is very good news. I discovered the rear fenders were a breeze to work with little work required to make the wheels clear. The front on the other hand... Oh dear.
This might be the last update on the GT40 for awhile since this will be the most time consuming part of the project. Days of filing both the body and the base with countless test fits for the wheels to sit and roll correctly. And we're still less than halfway into the build.

That's all for now. Cheers.