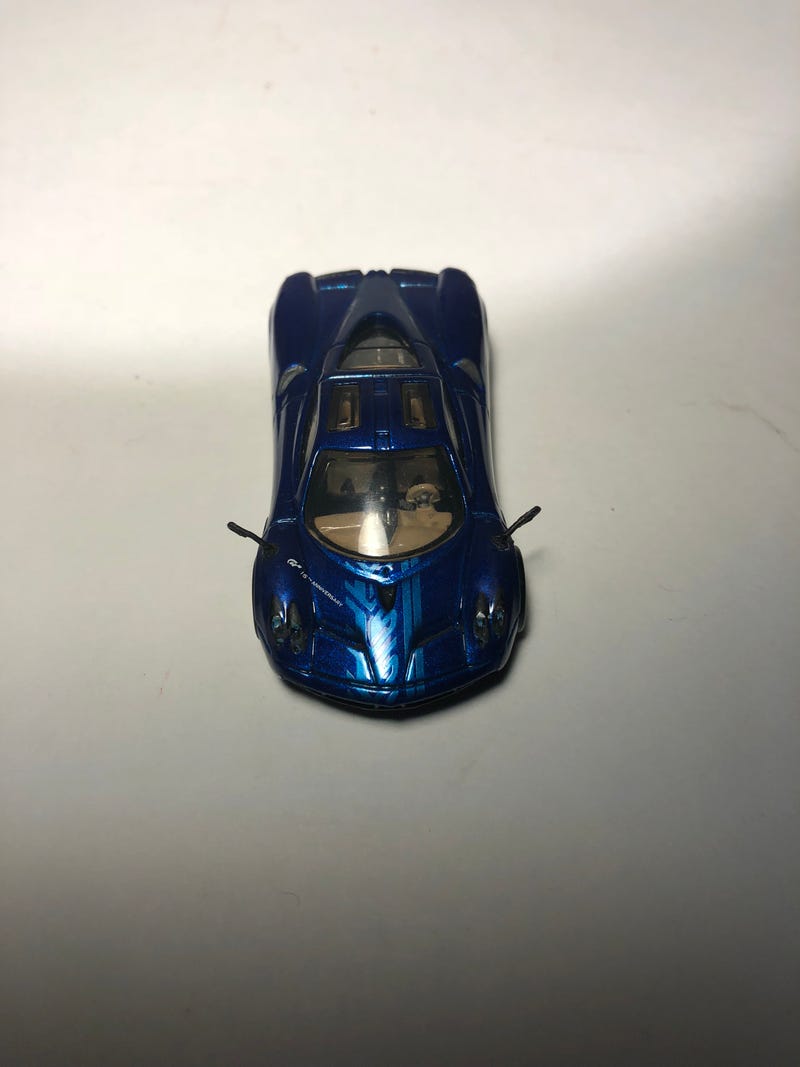 Hey guys! Been awhile- my free time has been dominated with college stuff and working on my car, but I finally got around to doing some things.
One of my favorite new builds has been this Gran Turismo Pagani Huayra- while I would like to eventually add a front splitter and a Gran turismo windsheild Banner, this will do for now.
I am a huge fan of Gran Turismo- while I haven't gotten GT Sport because I figured it would be unwise to get a PS4 before going to college. But I logged nearly 2500 hours on Gran Turismo 6 before my PS3 finally decided enough was enough in Early 2016.
If it hadn't broken, I would easily have 3500+ hours by now. While I am slowly "converting" all of the mainline GT series cars into premiums (IE detailing, swapping bases for metal when possible, and Real Rider swaps), it's still a ways off. This is the only one done right now.
Other things I've been working on:
ZAMAC Golf GTI- Id like to swap the base, but I only have one Eurostyle Mk7, and I need it for completion of the Golf casting.
another one ofmy favorites, a Gran Torino Talladega. Which BTW, is definitely one of the most underrated casts.
It's a little dirty because I staged it on my (desert) diorama I'm making, and I haven't sealed the weathering yet hence the dark brown spots on it.
I tried cleaning it off but no such luck so far.
Finally, I have one of the finished result of one of my longest occupiers of my WIP shelf. This is a Ford Focus RS based off a car I saw at the Jalopnik Hurricane relief car show a year ago. I instantly wanted to replicate it in hotwheels form.
While it's been occupying my WIP shelf in painted form for a long time, I have been waiting for wheels. I finally acquired the wheels from a Cargo Haulers Odessey to act as Fifteen52 turbofans.
The One:1 scale car here:
Again as with the others, I used it to stage on my diorama and it got filthy as a result. I haven't attempted to clean this one yet, but I will do it. Eventually haha.
Also, with the help of R32Rennsport during a recent HWEP, here is a little teaser of another long time occupant of my WIP line:
I also bought a new 1:18 scale car, and here's a hint: 👻