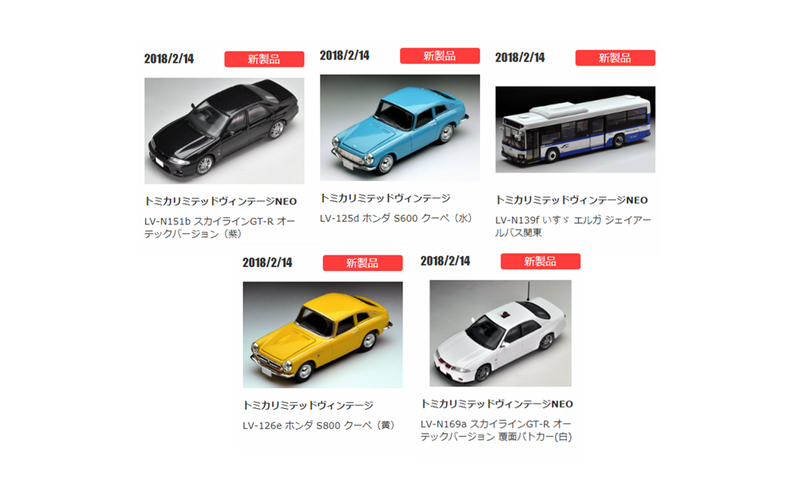 Tomytec has recently unveiled the Tomica Limited Vintage releases scheduled for June 2018.

Five models in three bodystyles have been announced, one in the TLV lineup, two in the NEO lineup, and none of these are new toolings.
The Honda S600 Coupe (LV-125)/ S800 Coupe (LV-126) releases are recolours of models last released more than 5 years ago. The Honda S500 was released in 1963 as Honda's second production car, and the later S600 and S800 were upgraded versions with more equipment and larger, more powerful engines, along with the option of a coupe body (S500 was roadster-only). The S600 is a recolour of a model last released in 2013 in stock colours (white, red) and a Dunlop racing-style livery. The S800 is a recolour of a model last released in 2013 in various factory colours. No S500/S600/S800 roadster has been released by TLV.

The Nissan Skyline Autech GT-R will receive two more releases - as an unmarked patrol car (LV-N 169) and a recolour of the stock variant (LV-N 151). Of all the later Skyline GT-Rs, the R33 Autech GT-R was the only four-door variant made, with a bit over 400 units produced. The stock variant is to be made in Midnight Purple, though the lighting of the provided pictures makes it appear black. Earlier releases of the R33 Autech GT-R depicted a stock silver sedan (LV-N 151) and a marked Kanagawa Prefecture Police car (LV-N 152).

A sixth version of the Isuzu Elga bus (LV-N 139) will be released, this time in the livery of JR Kanto Bus, the bus operator under Japan Railways Group (JR Group), which runs much of Japan's national rail network. Previous Elga releases depicted a Keikyu bus (March 2018), a Shinki bus (November 2017), a Tobu bus, a Hiroshima Electric Railway bus (both March 2017), and what I think is the factory demonstrator version (February 2017, correct me if I'm wrong).