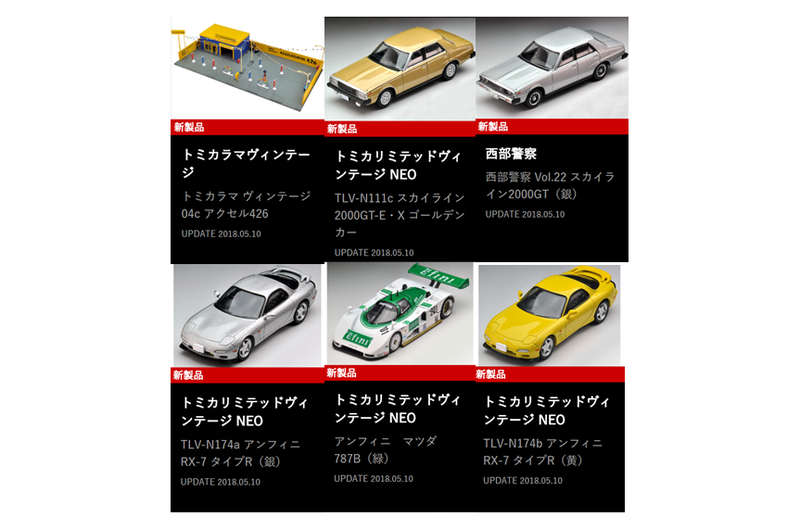 Tomytec has recently unveiled the Tomica Limited Vintage releases scheduled for September 2018.

Along with the many exciting new releases, the official TLV website has been overhauled, with a brand new layout and new search functions. Frustratingly, this means that every single past New TLV post has broken links to each individual casting.
Possibly the biggest news is the announcement of a new Tomicarama Vintage set, Accelerator 426, the first in four years (Bayside Motors was released in September 2014). You may have already seen reposted announcements elsewhere, as the hottest releases seem to catch the attention of other posters. Accelerator 426 is apparently a popular vintage-car shop and dealership in Japan.
The other attention-grabbing announcement is the announcement of a FD3S RX-7 casting (LV-N 174), in silver and yellow, both Type R versions with ɛ̃fini badging - one of Mazda's short-lived new brands for the Japanese market in the 1990s. The FD RX-7 served as a halo for Mazda in a way not seen prior or since, with a twin-turbocharged rotary engine rated at the gentleman's agreement of 280hp. The model depicted in these releases is supposed to be an early model form the first couple of model years.
A new release of the 787B has also been announced, in a less commonly seen ɛ̃fini livery. While there is evidence of 787Bs having run with the ɛ̃fini livery, information online is inconclusive as to where such a car had run in these colours with the number 201. The configuration depicted is also of one that ran only in daytime races as it lacks headlights.

Additional releases of the C210 Skyline sedan have also been announced, one as part of the Seibu Keisatsu series, and one regular release (LV-N 111). The regular release depicts a 1980 special edition with special gold paint.