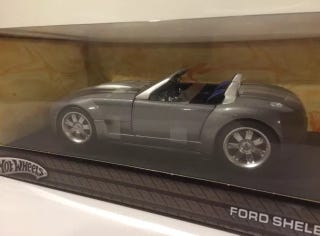 Yes, it's an auction, but with less than 24 hours left and 0 bids, this car has the potential to be scooped up for the starting bid of $9.99.
I don't know how popular the neo-cobra concept is with everyone. It kind of blew up back in 2004 and then slowly faded away. Still, for those who are fans of Shelbys or even concept car collectors like me may want to jump on this one. Not all at once, of course!
The auction says this model is brand new and the pics still have the packing strips visible. The eBay shipping calculator for me says $13, so this model could potentially be had for less than $25 shipped. Not bad!