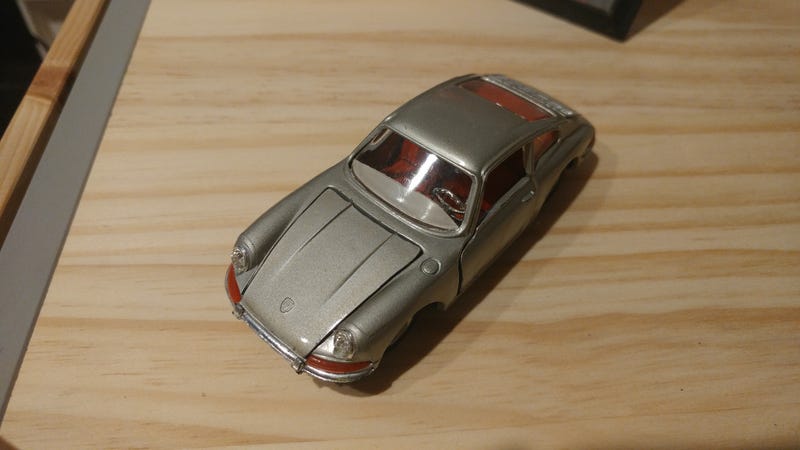 So let's show something completely different.
This is a 1:43-ish Politoys Porsche 912. It's a beautiful old model, nice and hefty, but with plenty of detail. The doors open, the engine cover opens, the frunk opens, and it has two jewel headlights.
Basically the 912 was the entry level variant of the 911 that Porsche made from 1965 to 1969, introduced because Porsche leadership was concerned that the 911 was too much of a step up in price versus the 356 and would therefore hurt the business in terms of brand appeal.
The main difference between the 911 and 912 was that the 912 had a version of the 356 SC's 90hp flat-4 in place of the 130hp flat-6 that was at home in the 911. Ironically, the 912 with its lighter engine had better weight distribution and handling than the more expensive 911.
The 912 was discontinued for the 1970 model year, with the 914 taking its place. Interestingly enough, another entry level variant of the 911 became the replacement for the 914, the 912E. The 912E was only produced in 1975-76, after which the 924 took its place. Why Porsche chose that route instead of just continuing the 914 for another year is anyone's guess.
Anyway, I've had this silver 912 for a while now, but for some reason never really took photos of it or posted it on there. So here she is!
I also finally finished detailing and re-assembling a colorshifting 356 that I got from Noodles. This paint is so great! There are so many angles to look at.