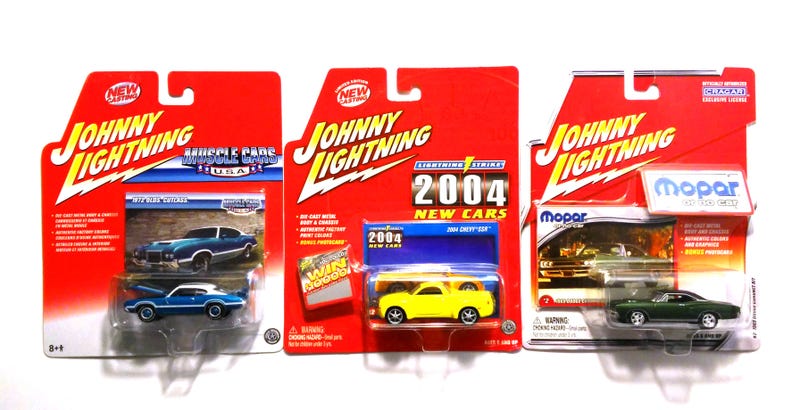 That's right, ladies and gentlemen. Old is back!

Yesterday night, I was feeling adventurous and decided brave the Friday afternoon/night traffic (and all the drivers going 10 MPH under the speed limit) to a more distant TRU to pick up a certain Lego set that other nearby stores didn't have in stock. You could say that this TRU was a little on the "ghetto" side. Anyways, I got what I was looking for, and then some. I was treated to a "premium" diecast section about twice the size of that of my local TRU's. Ghetto no more!
What you see here are three models from the so-called Playing Mantis Vault. These are old Johnny Lightning releases that were someway/somehow/somewhere found and distributed to select TRU stores in the U.S. I had heard these were coming, but I never expected that I'd be able to find them. Right place, right time, I guess. There's a holofoil sticker on the blister as designation, as shown below:
For the old-timers out there, you guys may already have most or all of these models. For newbies like me, these are a breath of fresh air. In 2004, I hadn't even started collecting diecast. I was in...what...elementary school? Yikes!
About these models: They're priced at $6.99 each, which is a dollar more than the current JL releases. Yeah, they're a bit expensive, but I assume they're probably limited in some way. When they're gone, they are gone. I'd suggest that if you ever encounter some of these, just take the hit and grab the ones you like because you might never see them again. I think there were a couple more I left behind just because I didn't particularly like the model or colorway.
To make things sweeter, I also found these:
These are the current (2016) JL releases. They, along with a turquoise blue Mustang Mach 1, are the other three cars of the Muscle Cars U.S.A. series that haven't appeared yet, at least not in my area. I skipped the Mustang because the casting didn't look that great, but I may pick it up in the future because the color is simply stunning.
DLM time? Yes!
First an Olds 442. Love the color, don't like the wheel offset.
Next, the Chevy SSR. The ugly duckling of this hawl; it's even yellow to boot. I don't have this car in diecast yet, so I grabbed it nonetheless.
Then we have the Dodge Coronet R/T in a dark metallic green. This one is absolutely gorgeous.
Now we move on to the newer stuff. The AMC Rebel Machine.
Lastly, the Pontiac GTO in an amazing copper/brown. We need to see more diecast in this color!
That's all for now, thanks for looking! And no, I didn't win the scratcher on the SSR!