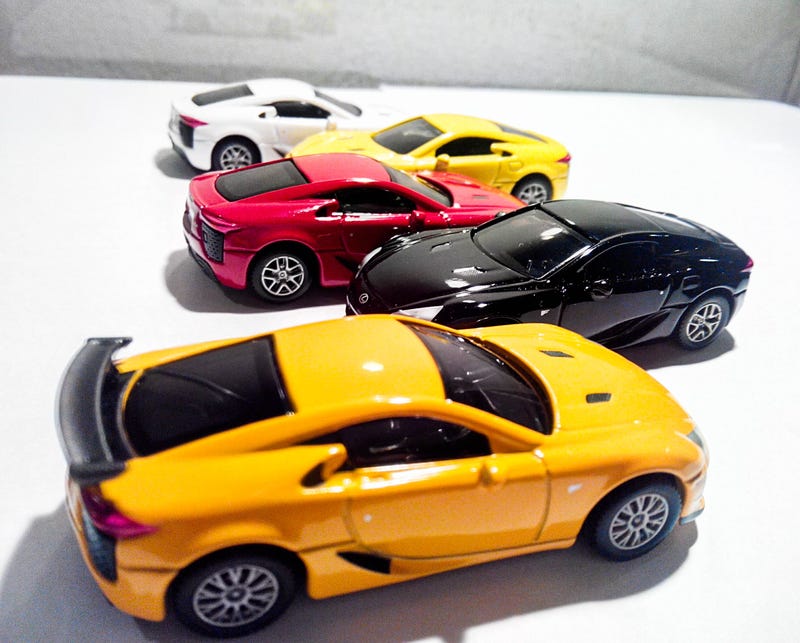 For my inaugural post on Live and Let Diecast, I'd like to talk about a part of my collection that I'm absolutely proud of.
Made in Vietnam for Tomica Limited, this set of 5 Lexus LFAs (plus one special item) is nothing short of awesome. Finally taking the time to properly photographing them (if you could call it that with a phone camera), these cars are absolutely amazing and it really justifies what TL tagged them for.
First car from the set is this one, painted in Red. As it always has been with Tomica Limited cars, the quality of the cast is very very good. The colour is very satisfying to look at, with its lushness and it absolutely shines under adequate lighting.
Whitest White is next in the lineup. In this colour, one flaw stands out - the stance. The front is heavily raised to accommodate the basic suspension that most Tomica models have. As far as I'm concerned, that's not too big of a flaw considering how good the rest of the car is!
Here are pictures of the other two 'normal' LFAs:
Pearl Yellow
Black
And of course, the big one! The strikingly orange Nurburgring Package.
My favourite car of the bunch, this model screams detail.
Since its 1:1 counterpart is a carbon laden, competition focussed car, this too features all that the real one has to offer. Check out the etched carbon fibre wing and bootlid!
The wheels are different from the standard ones....
.....but it's not an entirely perfect model, again. Contrasting the rest of the car, it's a shame that the front canards are just black lines. Well, you can't have everything. At least the splitter is looks the part of real carbon!
Here's a couple of pictures of the family:
All in, I'm very happy with what TL has to offer with this set. Granted, it's not entirely new (I bought it in 2012) but it's one that I'm truly honoured to be able to share with this wonderful community.
So which is your favourite model? And if there's any cars you'd like to see more of, do let me know in the comments below and I'll see what I can do!
Until next time, thanks for reading and Viva La LaLD!
Oh, and here's the sweet special item!