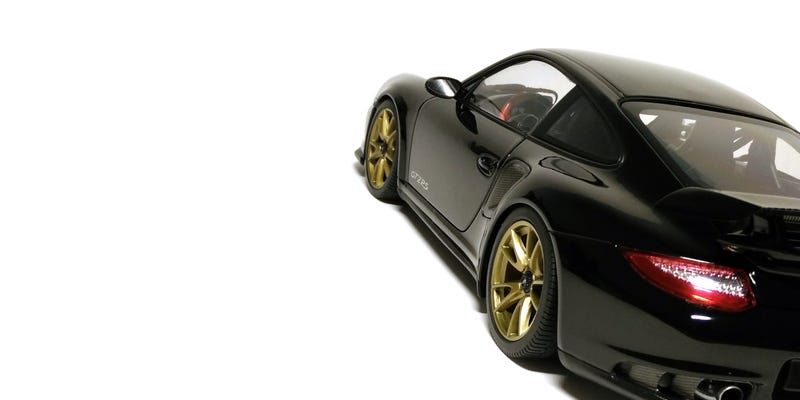 I've been on a Porsche binge recently, only because Replicarz has been offering them for pennies on the dollar. In terms of quantity, P-cars are second only to Nee-san in my 1/18 collection as it stands right now. 'Nuff said. That fleet of 918's I bragged about yesterday? Well, let's just say I got them as substitutes for out-of-stock clearance product. Same with this one here. The nice guys from Replicarz let me choose from any Porsche street cars in the shop, so I took a couple 918's and this black-on-gold GT2 RS, a car that's been occupying a corner of my mind since I started collecting 1/18's. As the ultimate 911, this is one car that every collector needs to have.
At regular prices, the Minichamps costs about the same as the AUTOart. No debate there. But when offered one for about half the price (<$70 shipped) of the AA, it becomes intriguing. Being so cheap, I took a chance on Minichamps' offering; if I didn't like it, I could just sell it off at no loss, perhaps even make a slight gain.
Yeah.....it's not going anywhere.
I love it, love it, love it, LOVE IT!
AUTOart doesn't offer the GT2 RS with the gold wheels, so that's a huge plus for those of you familiar with my tastes. I know some folks here who would echo the same sentiments. It looks soooooo good, and I wouldn't have it any other way. The carbon-fiber detailing throughout the car is very well done. There's some semblance of real grilles in the front, where a mesh piece overlays the solid chunk of plastic behind it.
About the only thing you can really ask for are textured badges. Otherwise, it feels every bit high end as its retail price suggests. The beautiful, contrasting, red, interior even has "carpeting" (in the form of felt) and seat belts, which I haven't seen on any of my other Minichamps models. This is a model that, to me, is worth more than a Benji so long as you don't get one optioned the same way as one of the AUTOarts.
Hell, I think I need more of these in my life. With them goldies, of course.
Move over, 996 and Blackbird. There's a new favorite 911 in town.