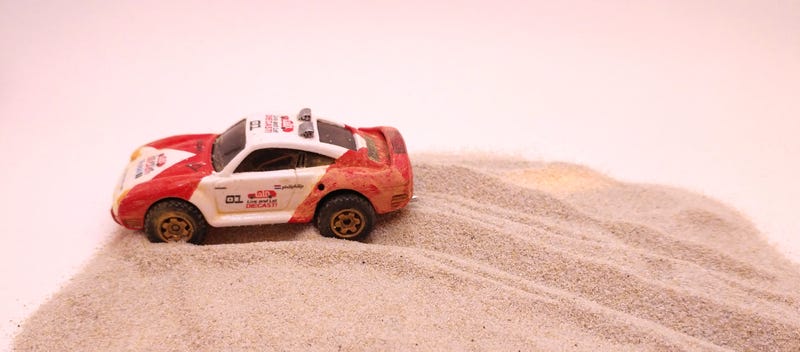 I've wanted to do a raised Dakar-style Porsche 959 for a very long time, and obviously I was going to submit a Porsche for the Superfly competition, so this was a great opportunity to get that build done!

Part of what always drew me to the 959 Porsche raced in the Dakar with the famous and ultra classic Rothmans was how clean it looked. No crazy bars, lights, or bodywork. Just a raised suspension, beefier tires, and that was enough. So after some quick photo research, my route was clear.
First step: get rid of that nasty piece of metal closing off the spoiler. To go fast, one needs airflow. And no air was going to flow into that nice under-spoiler mounted intercooler with that metal in place. A big hurdle, however, was that the spoiler has some crazy curves right in that area. So my solution was to drill out the metal and try to clean it up with some small files. It definitely didn't come out perfectly, but after some putty, more filing and sanding, I got about 80% filled in and smoothed, and I hoped the paint would hide the rest!
Next was the stance. I needed about a lowering of 1.5mm to make it look right, so I used Tinfoil's hacksaw method to deepen the axle channels, covered up with some ABS plastic cement glue to hold the axles in place.

I also had to sand the wheel arches a good bit to make the larger wheels fit, but after all that was done, it started looking pretty decent!
The only other exterior features needing some attention were the roof-mounted rear facing lights, and that intercooler. Returning to materials/methods sourced from Tinfoil, I cut off two short pieces from his custom chassis rails, sanded a rounded edge on them, and they were the perfect size for the lights.
Finally, that intercooler was built using a six-high stack of super thin styrene sheet all glued together, flanked by two thicker triangles of styrene. I didn't sand the edges or anything, I was hoping the layers of styrene would sort of look like the fins on the intercooler. It definitely looked good before paint, but sadly the fins were filled in a bit and lost some of the definition... Still though, good result overall!
Any self respecting race car has a livery, of course. Here I did not know the direction to take. I just knew I didn't want to do rothmans. Too intricate, and too classic. This is when I called in help from graphics guru and man-of-good-taste Section38. Thankfully he agreed to help out and not only came up with the Marlboro-styled livery, but also said he would design the sponsor decals!
A week later he send me the file, I did some minor sizing adjustments, printed them, and stuck em on!
This is when time started to crunch and the deadline started to loom, and I had yet to address the interior, which needed a roll cage, and any underbody protection and of course the exhaust.
Interior: I painted the shell silver to simulate the bare metal of a utilitarian race car, with seats in my favorite color, saddle brown. The rollcage is made from some brass rod stock I normally use for custom axles.
Exterior: The exhaust was simple, two little pieces of aluminium tubing I also normally use for custom axles. The front skid plate is another piece of thin styrene, with little strips of that same material glued on to give it definition.
Lastly it needed to look like it had been in the desert. I looked everywhere for some pigment powder meant for weathering scale models. Not being able to find any, I got creative and bought some compacted chalk pastel crayons, sanded dust off of them, and basted the 959. Not too shabby! The best thing is that I can clean it up if I want to and do something else with it.

The Superfly competition has some insane customs already submitted, so I don't have too many hopes of making any top 5s, but it was a really fun build, and a fun trans-atlantic LaLDer partnership at the same time, so either way I'm satisfied with how it all turned out. I hope you guys enjoy the car as well!