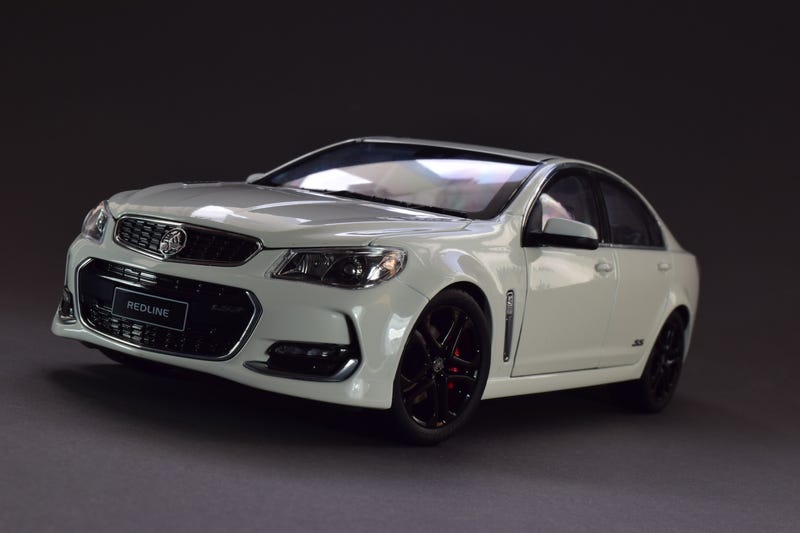 Is it possible for a newly released model to be considered a grail? In the case of this VF Holden Commodore the answer is yes. I've been looking for a 1/18 street version of the Commodore ever since I laid eyes on its VE based American cousin, the Pontiac G8.

In the world of 1/18 casts of Australian models, you basically only have two players, Classic Carlectables, makers of the Sandman from last week, and Biante. Most of my meager Aussie model collection comes from Classic Carlectables, with my sole Biante actually being co-branded with AUTOart. This model though is branded Biante only.
Overall the quality of the model is pretty good, but the paint has more orange peel than what I feel is acceptable at this price point. All of the grilles are sealed which is another disappointment, though it doesn't really detract from the look of the model. What does detract are the rear wheels, which are set too deeply within the wheel well. The interior is done well with no specific high or low points. The same can be said for whats under the hood, with a good, but not great engine. In this area, Classic Carlectables is a class ahead.
I was able to get my model upon it's release for about $145US. At that price it's hard to justify unless you are a Pontiac G8/Chevy SS fan. Unfortunately, Biante's initial release colors, white and red, both quickly sold out. The only one on the 'bay at the moment has a steep $230 asking price. But if you must have your own V8 thunder from down under, be rest assured that more colors are coming.