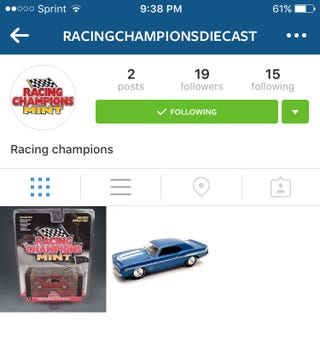 And they have done absolutely nothing with it. Really, their most recent pic is from a week ago, and I directly asked them a question about their product last week too (below) and I have yet to hear a response. I truthfully think it'll be easier to get GL to respond to a QC question.... XD.....sorry..couldn't resist...
Seriously though, IG is a great way to create hype for a product, it's baffling when a brand doesn't use it. And IG isn't Twitter or FB, it's a picture-sharing application...you post pictures of your product so people can see it. Basically, IG is perfect for diecast pics.
So far the best IG brand (that I've found) is the JL page, since they actually interact with other users. Heck, the JL page actually liked a pic that didn't have any JL cars in it, it was a GL car! AW did interact, but I later found out that someone else started the page so AW could take over when they did join. I'm guessing it's why my pic got shared by them, and why they haven't shown too many shared pics as of late. No word on the random Rat Fink pic yet....
Anyways, I just wanted everyone to be aware of the new, unused RC's page. :).