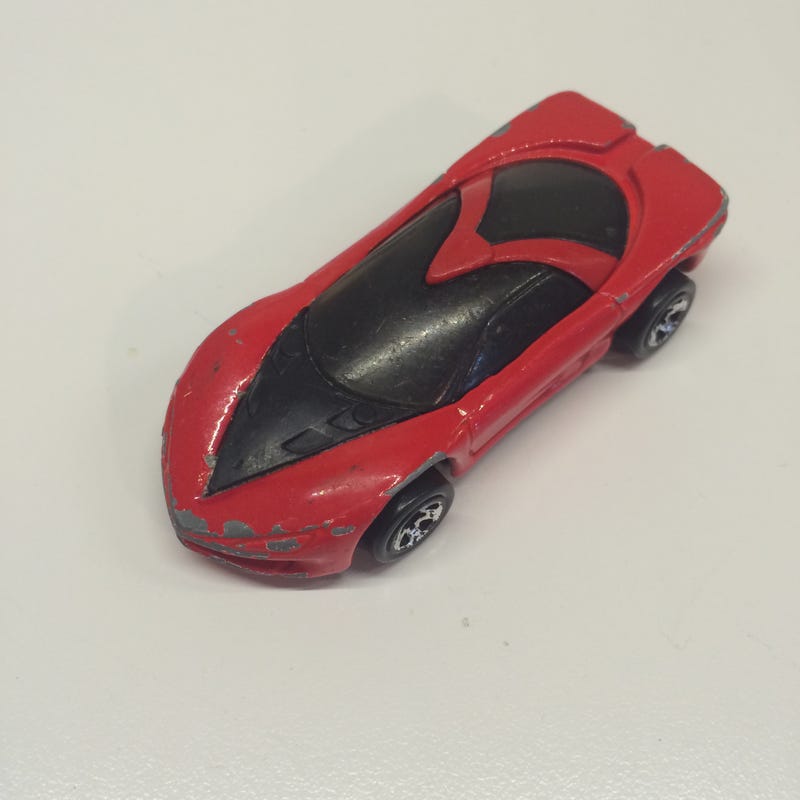 The Pontiac Bashee was a concept car built by GM in the late eighties. It was a design study which would lead to the new Firebird of the time. It's shape and features were very similar to those of it's GM cousins: the Buick Wildcat and Corvette Indy.
This is the Hot Wheels version of the car. I obtained this beauty through a trade with Engineerrrrrrrrrrrrrrrrrr.
It was a little rough, and a very high mileage example. I wanted to do a respray and change the small, dated wheels. This was a challenge for me because I had never worked with a metal base car before.
I naively thought I could bend the tabs back to release the wheels. I ended up snipping the axles to take the old wheels off. Grinding down the tabs to get the new wheels in seemed like the best option at the time. It wasn't.
I attempted to solder the donor axles and wheels to the metal base, but either the iron I used wasn't hot enough or the solder itself was too light. I could not get them to stick. My last option was superglue, which seemed to do the trick.
If I were to do it again, I will take the custom axles approach that Philipilihp had demonstrated earlier this month. Snip the old axles, create new axles, slide them through the metal tabs, then add wheels and beads. Oh well, each custom I do is a new learning experience anyway!
The "glass" was pretty nicked up too, so I decided to smooth some of the imperfections out with 2000 grit sand paper. I didn't quite get the results I wanted, and the glass is now opaque, but it looks a lot better than before. I was surprised to find four seats as well.
Here is the finished car. It was a simple respray in red. I didn't have to worry about details like the headlights because they are concealed on the real car.
After all my struggles with the wheels on the base, the larger rear wheels ended up not quite lining up with the body anyway. After a little persuading and lots of superglue, I was able to get the car back together. The car is static now, but the three spoke saw blades work better than the small traditional 5-spoke wheels it came with.
Not bad, but certainly not my best.