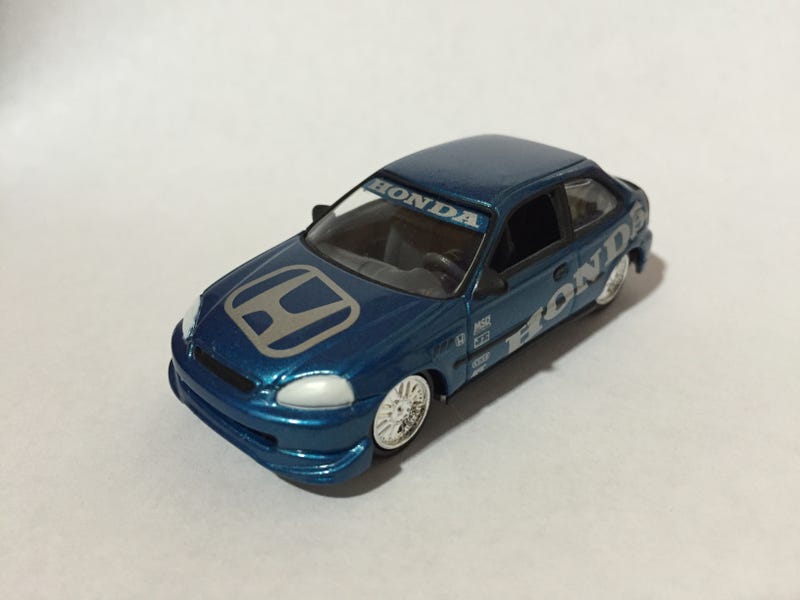 There aren't too many reviews nowadays, so let's change that. Here is my JL Honda Civic hatchback, which I had to have for one specific reason...it's bonkers crazy. I mean, look at it! It says 'Honda' across it!
Anyways, as you can see, it has a body kit on the front. It's a bit wide, but it does complete the overall look of 'racer'...or ricer, whichever you prefer, :). Plus I absolutely love the 'H'on the hood, slightly off centered.
The wheels are ugly, I'll admit that. And they are plastic too, which is a shame. The body shape is just right, and looks fantastic. You can also see the body kit on the front bumper, and how enlarged it is. I admit, it does look weird, but in a good way.
The rear looks great as well. I love how it has all the brand names all across. It truly is a racer/ricer car. And after staring at the license plate, I finally get it. "C U L8R" or "See You Later", which might mean he's gonna use some VTEC to get away.
Conclusion, would I recommend this car? Yes I would. It's such a oddball design, with a under appreciated car, in the best body style ever, how can you not love it? I pick it up for near $5, which is pricey but because I instantly fell for the casting I was more than willing to throw it down to buy it. I highly recommend it to everyone.
This car was part of JL's Import Heat (Release 1) lineup, which also included other JDM cars; like the Honda Accord, Acura Integra, and the Nissan Skyline. I only saw the Accord when I picked this guy up, and Civic was far better looking.
Anyways, hoped you enjoyed the review. And remember, keep diecasting on!