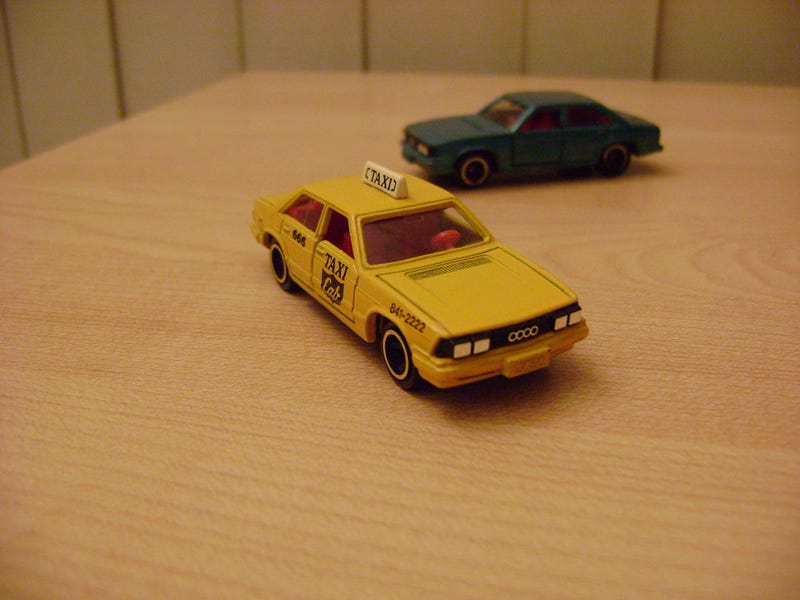 In my very first post, I mentioned that one aspect of my collection includes buying mint versions of my playworn toys. This is one of those pieces.

I've had the teal Audi for as long as I can remember. It remains the only Tomica from my childhood that hasn't undergone restoration, mainly because I've been unable to color match this unique metallic teal color. (Technically, I could do a full stripdown and repaint in another color, but childhood memories are irreplaceable.)
The taxicab version was acquired in 2014. The color scheme and sideways signage is reminiscent of (but not quite) a NYC taxicab.
By now, you might be wondering as to why a Japanese toy company would create a "fictional" American scheme for their toys. Well, Tomica was actually sold officially in the US in the 70s and 80s in blister packs known as Pocket Cars, very much like this one:
To cater to the American market, some of these export models (referred as 一般輸出 by the Japanese) had unique paint schemes and color combos not available in the domestic boxes. The Audi taxicab, as well as this Renault 5 turbo, are good examples of such unique schemes.
Anyways, back to the car... Despite being a very solid piece overall, this piece fails in the accuracy department relative to the real car. The front fascia is too boxy and "uptight."
As with the front, the rear does not resemble the real car at all. Actually, at this angle, it reminds me more of a 1980s Chevrolet Caprice Classic.

The rear lights were painted by the previous owner, and not wanting to risk any damage to the piece, I have left them as is.
Being another classic made-in-Japan Tomica that has never been re-issued in China or Vietnam, this is also a highly sought-after piece in the collector's market. Despite the inaccuracies, I am glad to own one.