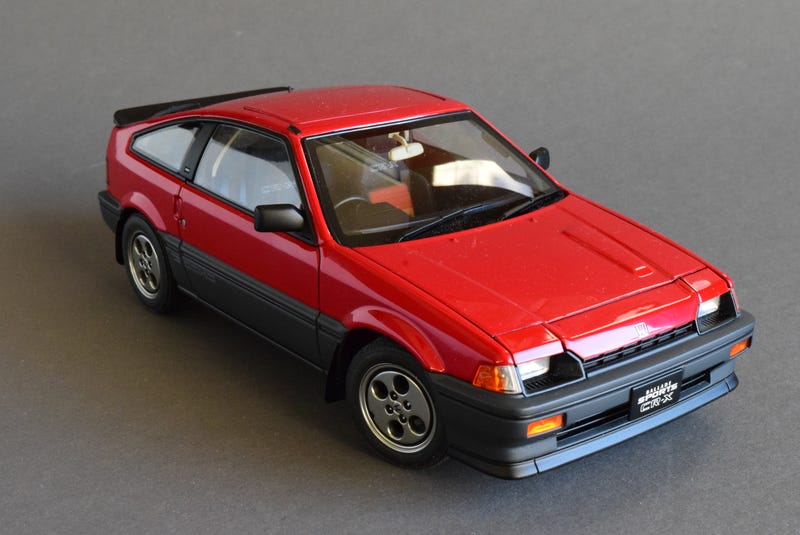 As most of you know, this Honda Ballade by AUTOart is Model Citizen's MOTM for November. Patrick talked about the model and the car a bit in his MOTM post, and Frosted The Boxy Car Guy also shared a few thoughts on his model, so I won't do that here. But what I will do is share with you a couple of features of the model that you might not know about.
The first one is rather simple. Did you know that the CRX, like all proper 80's cars, had pop-up headlights? I'm sure you think you can see the headlight just fine, but you're only seeing about 85%. I think the CRX has what has to be the least popping-up of all pop-ups, but they are pop-ups nevertheless.

The other feature was a bit harder to get at. I noticed that the sunroof panel was a separate piece, though it seemed to be rather firmly attached. Idle hands something something, and next thing you know the model is disassembled and the sunroof is out. I may have broken 1 or 2 or 6 things along the way, but she's back together and none the worse for the wear. The roof panel was glued down, but it was obviously intended to be removable at some point; the open roof is properly trimmed out, and the panel even has accommodations for the wire tie down AUTOart likes to use on hoods and trunks.
It's rather interesting that this is just a Millennium level model. It doesn't have Signature levels of detail, but it's so much better than many of my other Millennium models. It was a steal at $75. And there's still 4 days left...