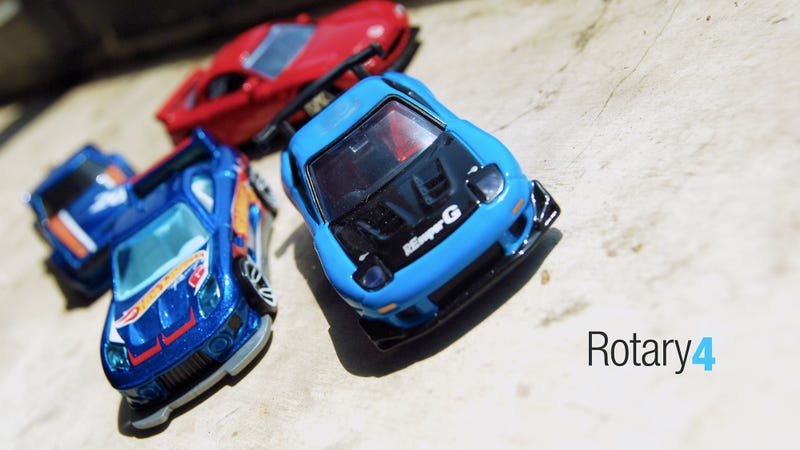 Phew! long time no see!
today's been fun thanks to these four guys here, so without further ado, let's meet the cast!
The JDM
yes, this is the RX-7 RE.Amemiya, a beautiful cast by the guys at Takara Tomy.. though i'd prefer for the car to sit a bit lower, but hey, that's what suspensions are for.. right?
The Homage
Yep! the 24/7.. or the 'Im-surprised-HW-havent-had-one-FD-on-their-mainline-yet' car.. though most people mod the car to make it look more alike the FD, i kinda liked the original take, it's like one of those GTA cars.. (though the front needs a bit toning down..)..
the back, and my failtastic effort to make a smoked stop lights.. looks a bit over-the-top, just like what HW represents IMO
The Senpai
The FB.. beautiful cast, and the decision not to make the rear wheels bigger (though the car is a racing car) really makes the car shines!
(i forgot to take the FB from behind.. so, please accept this blurry,upscaled photo i took from my IG)
The OG
Ah, the MotorMax FD.. this one needs a lot, and i do mean A LOT of work to make it look better, and even then, needs a wheel swap to get rid of that bargain bin wheels..
to illustrate the cheapness, i swear the plastic they chose to make the windows is at least half as thin than the ones at HW.. also, again, that train wheels!
The Fifth Ranger (aka The Gone Native)
got one of these online 3 months ago.. haven't seen it yet.. i think this one got lost somewhere on transit.. His AE86 example survives the delivery and will be featured soon!
(soon!!!!!)
well, as i say, i've had a lot of fun with these four.. though apologies for the inconsistency of color temp and such, been fiddling a lot with photoshop..
and one more thing..
PHOTODUMP!
"are we there yet?"
(Panning attempt goes wrong) alt: The Attack of The 60 Ft. LaLDer..