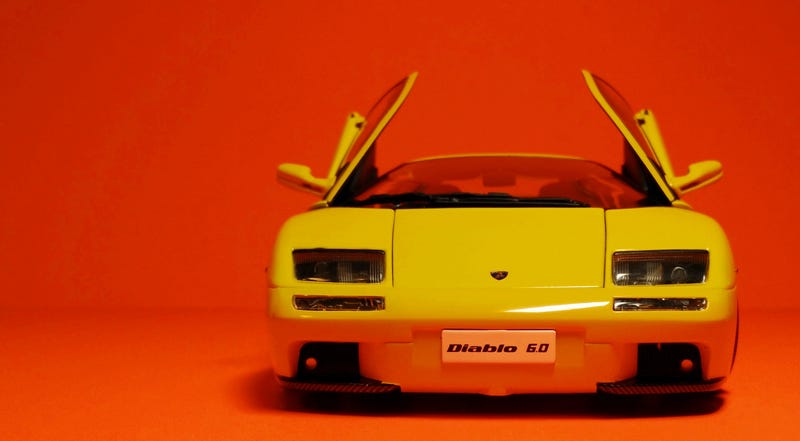 The devil gets a nosejob.
The latest Diablo to grace my collection, the VT 6.0, is also AUTOart's most recent Diablo variant. As a result, it gets the upscale detail that you're used to seeing from the marquee brand. The older ones aren't bad, per se, but this one is noticeably more modern, as evidenced by the sharp badging, mesh pieces, carbon trim, and scissor doors that stay upright - albeit still a bit finicky to deploy. Gone are the pop-up headlights, as the Diablo transitions into the 21st century of automotive design.
It's still a 90's car at heart, and I'd say the facelift neither helps nor hurts the appearance of the original. But those wheels - oh gosh - I think they are downright awful and do not fit the Diablo in any way, shape, or form. Particularly the fronts, which are flat as pancakes. Simplicity is key with the Diablo, and it looks like they were trying way too hard with the wheels.
If you're familiar with the current 1/18 market, you would know that the 6.0 is one of a handful of AUTOart models currently being offered on discount (think <$100), so it's a great time to snatch one up before they (I assume) cease production.