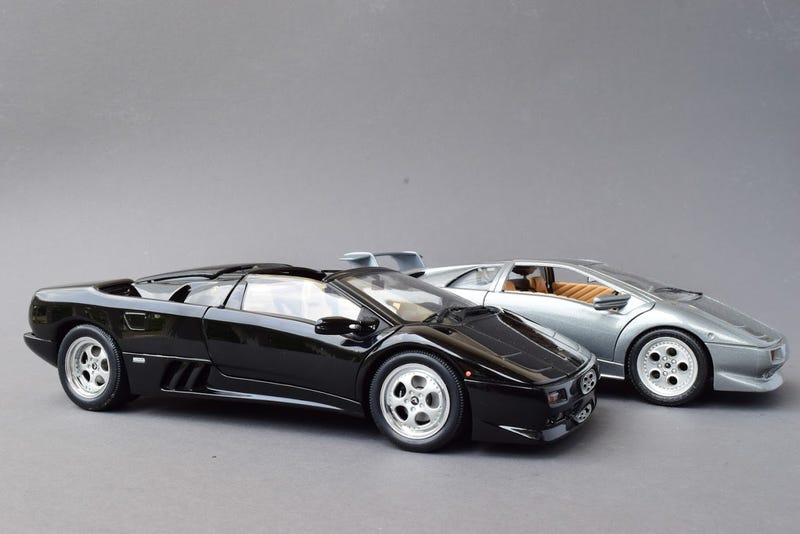 This post starts with a cautionary tale: Don't get old. When you get old, you come up with an idea for a theme week, take pictures for that theme week, and then completely forget about it. Fortunately I have just enough time to get a post in. What's the theme? Every year from July 6-14 the San Fermin Festival takes place in Pamplona, Spain. If that doesn't strike a bell, don't worry about it because it's not the festival we're focused on, but one of its events; the running of the bulls, which kicks off daily at 8am from the 7th to the 14th. So let's see some Lambos this week.
The other thing being old does is make you think you have models you don't have. This first post of Running of the Bulls week was supposed to feature my Bburago Lamborghini Countach. Except that I don't have a Countach. I do have a Diablo, though, so that's what we're going with.
The Diablo was introduced to the world in 1990 and was produced in various forms up until 2001.Like the Countach before it, and all the V-12 models since, the Diablo's signature feature is its scissor doors. The Bburago represents the first year model. If you're old enough Bburago was probably your gateway into 1/18. Though they leave a lot to be desired by modern standards, they're really not bad considering the age and market position. Many of these older Bburagos suffer from being underscale, but thankfully, the Diablo doesn't.

The second model up for this week is another early-ish Diablo. This time it's the 1995 Roadster by AUTOart. Besides the obvious removable roof, it differs from the Bburago in that it is a VT model, meaning that it has the AWD system. The VT also brought with it a number of other changes that were eventually added to the base car. In case you're wondering, the theme here is "pop-up headlight Diablo". You could also think of these as the Chrysler-era Diablos, even though that era ended in 1994.

Tomorrow will be part 2 for the Diablo. That is, if I don't forget.