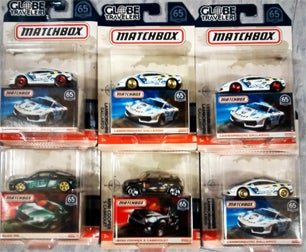 Six Matchbox Globe Travelers, all stripped of their wheels, resealed, and returned to TRU.
Anyone who mistakenly might have bought these, at full price (minus 10% of course...), would not not have been able to return them.
All sales are final in the remaining days, so I showed them to one of the clerks. I'll bet they're back in the aisle, but I'm not going back...
!
Wasn't all Debbie Downer; my Final Purchase from TRU had to be a VW...

To cleanse my diecast palette, I hit the nearby Wally World.
Apparently, Johnny Lightning released a Classic Gold Series last year and we're just seeing the remnants in these here parts. Chevy Blazer:

This series included a VW Karmann Ghia that I never saw in any store. I just looked it up on the bay...it's definitely something I would have noticed and bought. If anyone found an extra one in great condition, I'll trade you for one.
Oh, and AMC goodness...

Both cards say Version A, so I can look forward to missing other Karmann Ghias in the future. Yay!
I like to know what to expect sometimes...
/s
lol