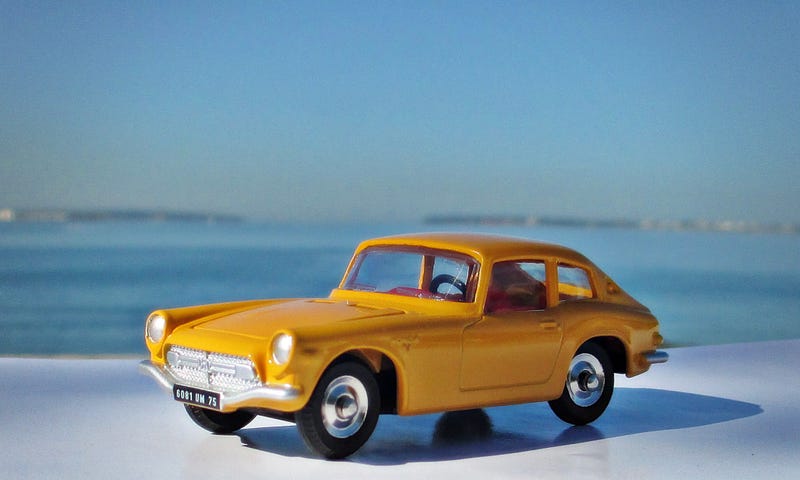 The Honda S800 was only the third car made by Honda. Introduced at the 1965 Tokyo Motor Show, the S800 replaced the successful Honda S600 as the company's image car and competed with the Austin-Healey Sprite, MG Midget, Triumph Spitfire and Fiat 850 Spider.
Early examples continued to use the chain drive and independent suspension in the rear. 752 roadsters and 242 coupes were produced. After that Honda switched to a conventional drive-shaft, live axle rear end with four radius rods and a Panhard rod.
The 791 cc straight-4 engine produced 70 hp at 8000 rpm, thus making this Honda's first 100 mph (160 km/h) car, but still allowing for 35 mpg (6.7 L/100 km). In April 1967 the car was described as the fastest production 1-litre car in the world thanks to its high revving engine (up to 10,000 rpm).
Production ended in May 1970 with 11,536 S800s produced - a great success for Honda at the time.
This model is yet another Atlas Dinky acquisition. It's a very exact modern replica of a contemporary Dinky model. And eagle eyed readers will have spotted the Paris licence plate on this model - meaning that this was originally a French Dinky model.
I couldn't resist placing it next to the Diapet Roadster - which does look a bit chunkier by comparison, though they are pretty much the same size.

The Atlas Dinky models are great nostalgic fun without breaking the bank - the cost of this one was about 10% - 15% of what you'd pay today for a mint original Dinky.
And that's all for today - enjoy your Sunday, I sure did.